China's economic centre of gravity is shifting to the southern part of the country, home to hi-tech industries and coastal ports
Growing divide adds to economic pressure of trade war with the US and general slowdown in China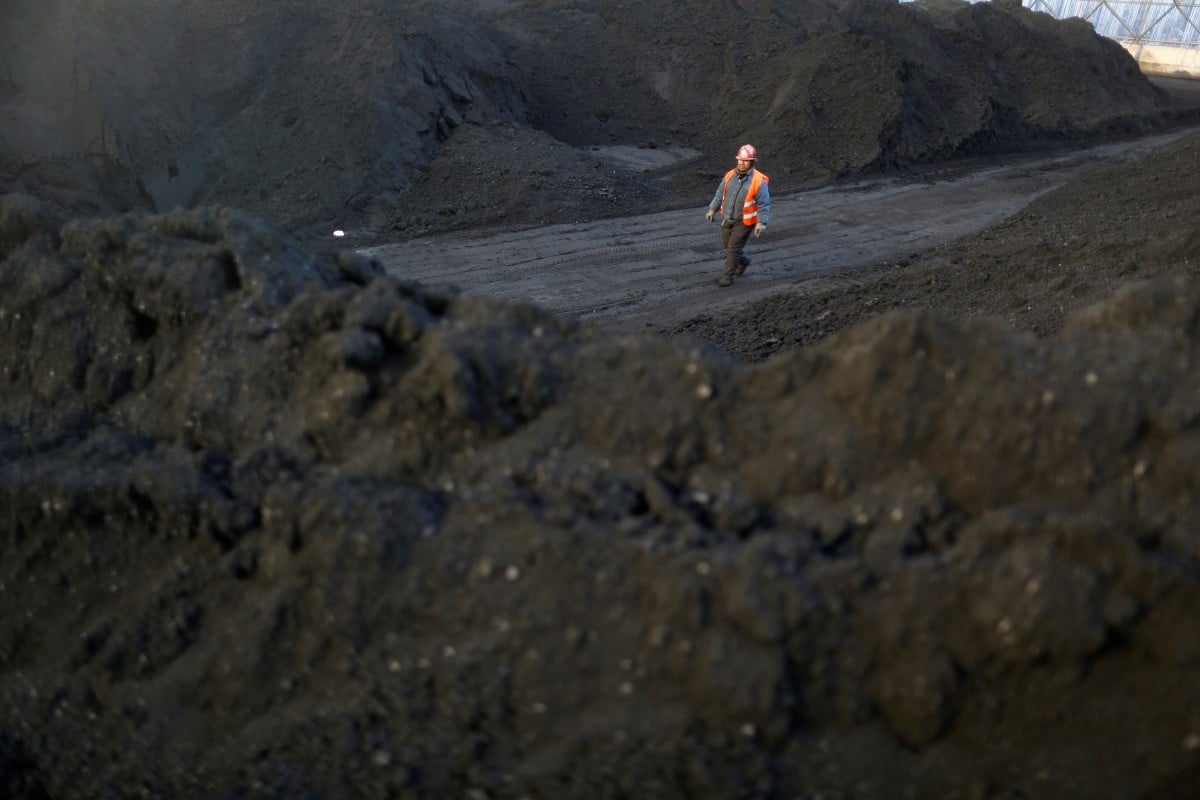 A worker walks past coal piles at a coal coking plant in Yuncheng, Shanxi province, one of China's heavily industrial regions in the North. Photo: Reuters
Wang Le, a Beijing native, moved to Shanghai in 2016 to open a Thai boxing club. As an entrepreneur, Wang said Shanghai in China's South is more open to new things than Beijing, in the "conservative" North.
"You do not need to worry about being niche here, no matter what types of goods, consumers can find what they need, and these types of businesses can survive," he said.
What struck Wang as the biggest difference is the culture of doing business. In the South, he said, abiding by rules is more rooted in people's minds than in the North, where businessmen tend to give empty promises and spend their time building close relationships with those in power to facilitate business deals.
"In general, the south has a stronger sense of service than the North, no matter if they are a vegetable salesman or a government official. In such an environment, customers [in the South] have higher demands, or are more critical [of products or services they purchase]," said Wang, who added that this can be challenging for northern entrepreneurs to get used to, but that the rewards are worth it.
"As long as you do it well, they will be willing to spend money in your place," Wang said. "'Willingness to consume' is also a feature of Shanghai, they are willing to spend on quality goods."
Wang embodies the growing schism between China's North and South, which are culturally diverse and becoming more 
Geographically, China is split in two by the Qinling mountain range, also known as the Sichuan Alps, and the Huai River. In recent years, these features have also served to slice the country in two economically. To the South lies China's most affluent regions, home to most of its innovation hubs and busiest ports.
Southern China has the Pearl River and the Yangtze River Deltas, the nation's two manufacturing hubs, and has seen its economic importance rise, with output covering 61.5 per cent of national gross domestic product (GDP) last year.
To the North lies much of its heavy industries, such as coal, which helped fuel China's economic miracle of recent decades, but which will soon be relics of the past.
The North-South divide is growing and has become increasingly apparent since 2013 when the North's share of economic output fell to 38.5 per cent, having previously been higher than 40 per cent. This is despite containing 15 provinces, 42 per cent of country's population and 60 per cent of its territory.
In 2013, the average annual income in the South was lower in the North, but in 2018, the South's per capita GDP was at least five per cent higher than the North, according to calculations made by the South China Morning Post.
The divide can be seen in their
to skilled labour. Guangdong in the South and Shandong in the North are China's two most populous provinces, each of which has more than 100 million regular residents, however, in 2018 Guangdong attracted inflows of more than 800,000 people, while Shandong lost an estimated 400,000 people to other places.
The trend is likely to worsen as the fight for skilled workers in China escalates. Employers in the affluent South often can offer higher wages and better career prospects than the North, which has found it increasingly difficult to retain local talent.
The disparity is also apparent in the North's reliance on government funding. As China's economy slows and its old industries dwindle, northern governments last year generated enough revenue to cover less than half their spending. The South, in contrast, was able to fund 55 per cent of its own outlay, according to a recent study from the Chinese Academy of Fiscal Sciences, a think tank affiliated with the Ministry of Finance.
Furthermore, the infrastructure of the South, including the ports, make it a natural destination for foreign capital. This has helped it grow exponentially, as the resource rich North struggled with commodity price fluctuations.
The foreign investment helped the South become an export hub and home to hi-tech industries. Its private sector boomed, with firms able to react more quickly to market forces than the state-owned enterprises in the North.
Liu Qingfeng is a businessman from Liaoning, a northeastern Chinese province bordering North Korea and the Yellow Sea. Liu spent a decade in Shanghai and four years in Shenzhen, before moving to Beijing three years ago. He said that while businesspeople he dealt with from both China's North and South are pragmatic and fast learners, those in the South are more "collegiate". This attitude lends itself better to growing a private business, he thought.
"This means small and medium-sized family businesses in the south can expand to a bigger scale. The North cannot compete with that. If you read the story of successful entrepreneurs in the North, many of them are lonely heroes, fighting on their own," Liu said.
Reforms in China's economy are serving to accentuate this generalisation, strengthening private enterprise in the South, while hollowing out the heavy industry in the North.
By 2018, close to two thirds of the 579 special districts set up by Beijing across the country as test beds for opening to foreign investment were in the South, according to a study by Tsinghua University.
"[Government] supply-side structural reforms, including cutting excessive industrial capacity, are a tough test for many provincial economies. But for the northern provinces, the test is more profound," said Chen Shu, an analyst from the Atlantis Finance Research Institute.
In an interview in May with Qiushi, a political journal run by the Communist Party, Liu Shijin, former vice-president of the Development Research Centre under the State Council, said the development imbalance is not all negative.
"China is a very large country and its development has been unbalanced in the past. It is often seen as a shortcoming, but in some respects, we found it could also be an advantage," Liu said. "For example, when [consumers] start to buy television sets and computers, orders come from areas with high income levels first, then from low-income areas. In this way, the manufacturer's production and sales periods can be extended and the economy continues to grow."
Most analysts, however, feel the North-South gap should be urgently addressed, but not in the way that China addressed the East-West gap in the past. Lu Ming, a professor of economics at Shanghai Jiao Tong University, said much of the central funding and subsidies for western and central China have been wasted on building new cities and industrial zones, which people are now leaving.
"I suggest we conduct an investment return assessment for high-speed rail projects that have been planned in the central and western regions, and consider replacing them with airports, which are more suitable for areas with low population densities and complex terrain," Lu said.
He added that those regions experiencing an exodus of human capital should not be judged by economic growth, but per capita income, which he considers a more fair metric.
This would be a small step in addressing an economic imbalance, which is threatening to get wider.
Source: SCMP