Beijing has lent billions of dollars to countries on the continent to build railways, highways and airports but critics say the borrowings are unsustainable
Chinese officials say the projects will pay off in the long run and host nations are well aware of their limits and needs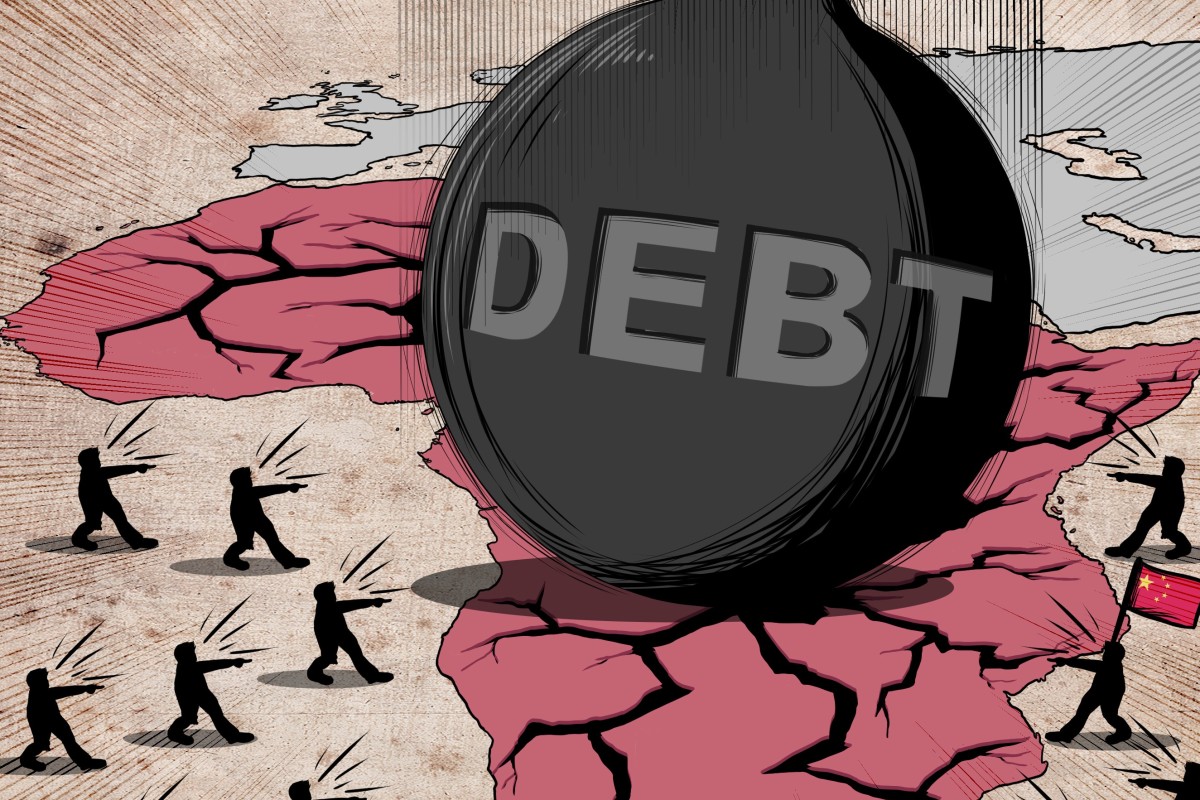 Illustration: Lau Kakuen
When Clement Mouamba went to Beijing last year, he had two main tasks.
The prime minister of the Republic of Congo needed to find out exactly how much his country owed to China, a number the struggling, oil-rich central African nation had until then not been able to provide the International Monetary Fund (IMF) to qualify for a bailout. He also needed to convince Beijing to restructure its debt to ensure sustainability.
The IMF had put talks for further loans on hold until Mouamba's administration could say exactly how much it had to repay to the country's external creditors, including China – the republic's single largest bilateral lender – and oil multinationals such as Glencore and Trafigura.
The country, which heavily depends on oil revenue, turned to China and private oil majors for funding to run the government when in 2014 oil prices fell from a high of US$100 per barrel to as low as US$30.
Critics say countries on the continent are being burdened with unrealistic levels of debt for inviable infrastructure backed and built by China without adequate transparency and scrutiny.
The biggest concern is that several African countries will be left with huge debts and grandiose infrastructure that they cannot maintain and run profitably. I liken it to borrowing money to buy a Tesla when you don't have adequate access to electricity: 
But Chinese observers say the West must take some of the blame for the countries' debt problems and that the support China offers will benefit the host countries in the long run.
In the early 1990s, when China began to embrace Africa again after years of isolation from the outside world, the aspiring manufacturer was at a serious disadvantage in the race for raw materials and markets for its industrial goods.
The former colonial powers of the West had already sewn up deals for many of the continent's most lucrative and readily exploitable reserves, from fossil fuels to minerals.
China needed new strategies to convince African governments to allow it access raw materials for its industries and markets for its products to a largely unfamiliar partner.
China also wanted to challenge the dominance of the US in global trade and politics so it courted allies in Africa to help it push for political legitimacy in international institutions.
At the time, many African leaders were under fire to liberalise their economies. China's approach was to promise not to meddle in individual country's internal affairs and assure African countries that they could get billions in exchange for future delivery of minerals through resource-backed deals.
Beijing sold its policies that it had no conditions attached to its development finance. In the drive to drum up business, China promised affordable loans for African countries to build roads, bridges, highways, airports and power dams.
Is Kenya's Chinese-built railway a massive white elephant?
But Beijing also pursued tied finance, ensuring that countries borrowing from China used Chinese contractors to implement the projects rather than open them up to outside bids.
In addition, many of the deals were built on weak financial, technical and environmental conditions, with Chinese state firms conducting the technical feasibility, environmental impact assessment and financial viability studies for free for projects that they also build.
For example, in Kenya, the China Road and Bridge Corporation conducted a free feasibility study that was used in the construction of the railway.
The same company was handed the contract to implement the project and is operating both the passenger and cargo train service for a fee.
In contrast, the World Bank and its partner institution, the IMF, demand that such studies be done by an independent consultant and not by the company that implements the project.
According to data compiled by the China-Africa Research Initiative, at the Johns Hopkins University School of Advanced International Studies, Beijing has advanced loans worth US$143 billion to African countries since 2000, levels that some critics say are unsustainable for the borrowers.
China meets resistance over Kenya coal plant, in test of its African ambitions
For many of China's new African partners, these arrangements – from easy lending terms, to non-competitive bidding and opaque contract details – have led to new problems – problems that corrupt or poorly managed governments now share substantial responsibility.
Some critics, both in the West and in host countries, suggest there is a "debt-trap strategy" at the heart of Beijing's push for international business and influence, but there is no evidence that China deliberately pushes othe