The Indian prime minister refused to back the Chinese leader's ambitious global infrastructure vision at a summit last week, but the apparent snub is not getting in the way of amicable ties between Asia's two biggest economies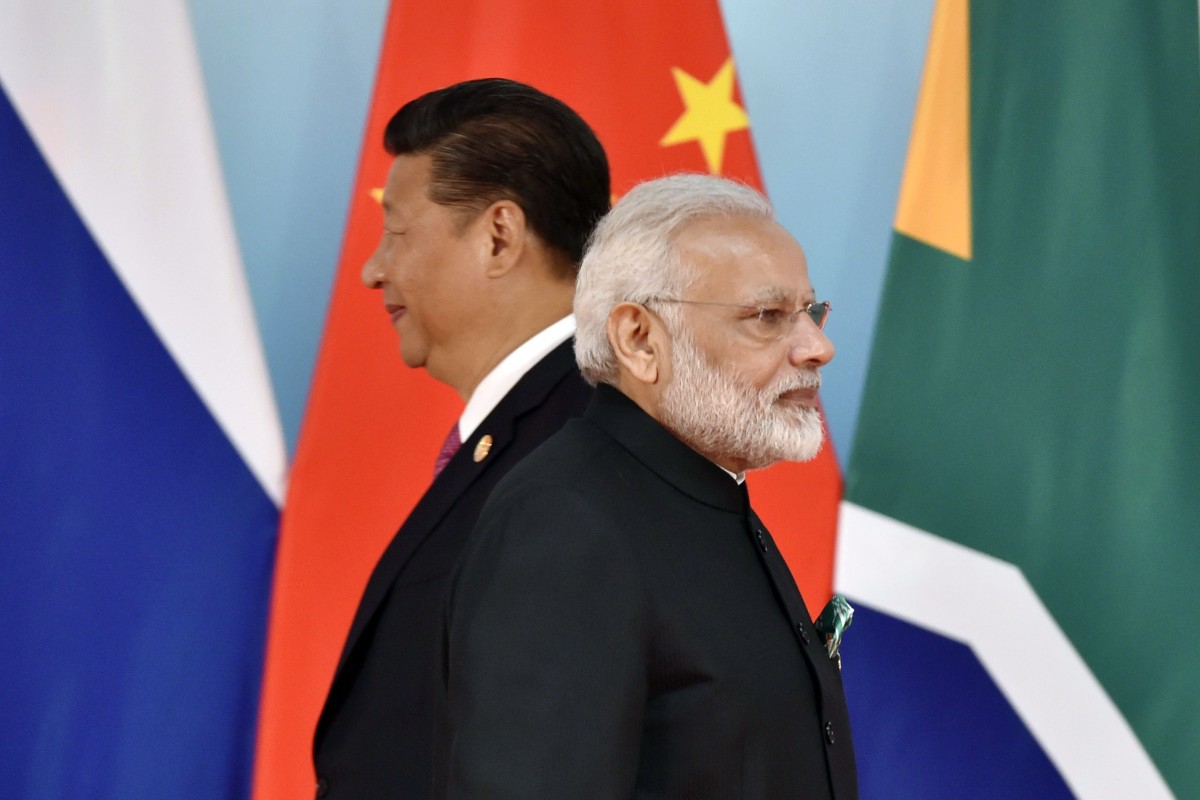 Chinese President Xi Jinping and Indian Prime Minister Narendra Modi at the BRICS Summit at the Xiamen International Conference and Exhibition Center in 2017. Photo: AFP
Their informal summit in Wuhan last year created all the right optics; even their chemistry seemed on point. So, when 
and
met last week on the sidelines of the Shanghai Cooperation Organisation (SCO), the bonhomie seemed like it was there to stay.
But a day later, cracks appeared to emerge. India, holding on to its long-stated position, delivered a public snub to China by refusing to endorse its ambitious, trillion-dollar 
(BRI) in the SCO summit's Bishkek declaration.
Now, after equal parts public bonhomie and disagreement over the BRI, where do 
finally stand? Somewhere in the middle, by all indications.
With just 10 days before Xi and Modi meet again at the Russia-India-China (RIC) trilateral meeting on the sidelines of the
in Osaka, there have been increasing signs that both countries may now be trialling a fresh approach to diplomacy – one that neither sidesteps contentious issues nor does it allow differences to derail ties.
Such an approach would delink the thorny issues – like the
and the BRI – from other non-contentious issues of cooperation in other sectors.
But the jury is still out on whether it will pay off, especially given the historical distrust and the baggage that both countries carry.
In the last week alone, there have been at least three flashpoints in the Sino-India relationship.
While the dust was still settling on India's refusal to sign the Bishkek declaration endorsing the BRI, reports emerged that the 
was expected to scrap plans to build jointly with China an ocean observatory overlooking the Indian Ocean. The news came a week after Modi had visited the Maldives capital Male in early June.
For Modi 2.0, India's US-China balancing act just got trickier
The Maldives' decision to build the observatory was first mulled in December 2017, raising the Indian establishment's hackles as it would have given China a presence in the region.
Another irritant between India and China has seemed to be the proposed 16-nation 
(RCEP). India has been lukewarm on the free-trade bloc, frustrating the Chinese. Indications have been that China is likely to push for a 13-member bloc at the coming RCEP meeting in Thailand on June 20, excluding India.
BRI and border issues have not managed to overshadow the remaining business between the two countries 
Yet, despite all this, there has been no let down in engagement levels between Modi and Xi. Both leaders are expected to meet at the RIC summit on June 29 to 30, and have at least two more meetings planned this year alone – an informal Xi-Modi summit in India
in October and the BRICS summit on November 13 to 14.
For Narayani Basu, a New Delhi-based author and independent foreign policy analyst with a special focus on China, such sustained engagement between the two countries signals a new level of maturity.
"There has been a fairly successful attempt at delinking historical geopolitical and territorial issues from issues which are economic in nature," Basu said. "As a result, the BRI and border issues have not managed to overshadow the remaining business between the two countries."
STRONG LEADERS, STRONGER AGENDAS
The approach might also have to do with where both leaders currently stand.
Modi and his Bharatiya Janata Party (BJP) have freshly emerged from a landslide
. Through the campaign, Modi portrayed a hardline image of himself and his government, especially on issues of national security. Similarly, Xi has emerged as a stronger leader since his reappointment last year – his approach marked by a higher-than-ever emphasis on economic nationalism and connectivity. Modi made a reference to this in his SCO meeting with Xi.
Basu said Sino-India ties were also being guided by the personalities of both leaders – strong, with harder-than-before agendas.
Did Japan and India just launch a counter to belt and road?
"They both came back on agendas based on consolidation of power, protection of sovereignty and nationalism. These are all issues that will not allow either side to blink easily. "So, even as both leaders are looking to move forward, they also do not want to compromise on their core issues – primary among them being territorial sovereignty," she said.
The message is loud – India's opposition to the BRI does not mean India will allow adversarial relations to develop between the two 
In his SCO summit speech, Modi brought up territorial sovereignty as a thinly veiled reference to China's BRI, saying India only supported connectivity projects that are based on "respect of sovereignty" and "regional integrity".
Sana Hashmi, an analyst with Perth-based think tank Future Directions International and author of 
China's Approach Towards Territorial Disputes: Lessons and Prospects
, agreed that India was not letting historical issues get in the way of its relationship with Beijing.
Hashmi noted that India's main objections to BRI revolved around one component – the China-
Economic Corridor (CPEC), which runs through the disputed region of Kashmir.
"But to make sure this does not affect the relationship, PM Modi and President Xi are meeting numerous times," Hashmi said. "The message is loud – India's opposition to the BRI does not mean India will allow adversarial relations to develop between the two."
A NEED FOR EACH OTHER
Another factor that has likely prompted the new approach between India and China is their need for each other, particularly as both Asian powers navigate bumpy relationships with US under 
China is caught in a protracted
and is reeling from the tariffs imposed on Chinese imports to America. India, too, has seen a similar but smaller version of this trade battle play out – things have escalated especially since the Trump administration withdrew its preferential trade treatment towards India. Responding to this, India imposed tariffs on 28 US products over the weekend.
Move over, 'Made in China'. It's 'Made in Bangladesh' era now
In such a context, a stronger relationship between the two Asian giants might be in mutual interest.
Basu said the scope for the relationship to deliver on, especially economically, is vast.
"Despite the chemistry, India and China's promises to each other on the economic front haven't materialised on the ground. Major projects as well as investments in each country are stuck."
Source: SCMP