Tsai meets leaders of 1989 pro-democracy movement to bolster credentials for protecting island's democracy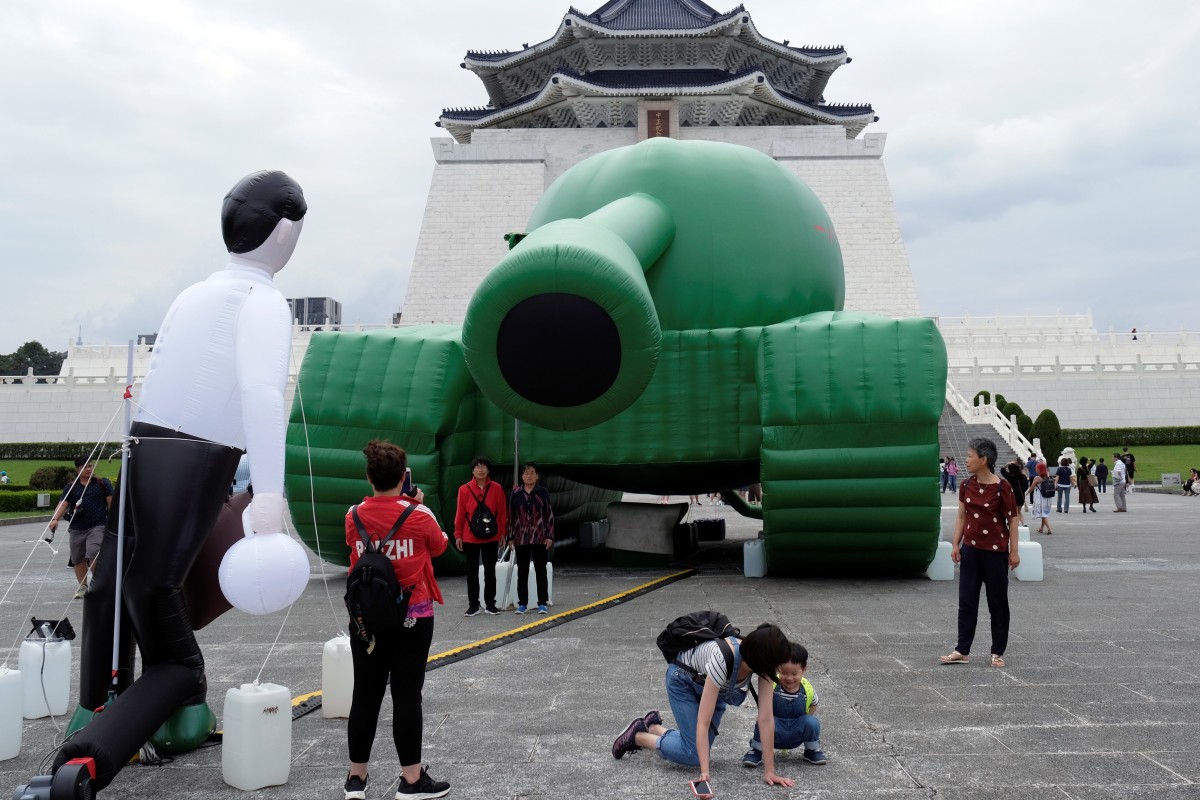 An installation recreating the celebrated Tank Man photograph in Taipei's liberty square. Photo: Reuters
Taiwanese President Tsai Ing-wen met a group of exiled Tiananmen protesters on Thursday, a move that further burnishes her credentials for standing up to Beijing.
She said the bloody crackdown on the student protesters in 1989 should remind Taiwan that it must firmly reject the "one country, two systems" formula put forward by Beijing for reunification to safeguard its sovereignty, freedom and democracy.
"We don't want to mislead the other side into making a wrong judgment nor do we want to let down those who support democracy and freedom as a result of an ambiguous answer by a Taiwanese president," Tsai told her visitors.
"There is no room for ambiguity or dodging when the 'one country, two systems' proposal was raised, and we must clearly state that this is not a proposal that we, who have enjoyed freedom, democracy and human rights, could accept."
The group of mainland émigrés included former Tiananmen student leaders such as Wang Dan, Wang Juntao, Deng Biao, Zhou Fengsuo and Fang Zheng, who were visiting Taiwan for a three-day international forum held to mark the 30th anniversary of the crackdown.
At the start of the year Chinese President Xi Jinping proposed that the two sides should start cross-strait unification talks under the one country, two systems model used to reunite Hong Kong and Macau with the mainland – a model that Tsai flatly rejected saying the two cities had no real autonomy.
In a statement issued by the presidential office, Tsai also noted the different course Taiwan and mainland China had taken over the past 30 years, with the island developing a fully fledged democracy while Beijing has tightened its curbs on freedom of speech.
She also accused Beijing of infiltrating free societies and undermining others' freedoms using disinformation or hi-tech and commercial weapons.
In the meeting, Tsai sharply criticised Chinese Communist leaders for suppressing the pro-democracy student movement in 1989 and failing to restore the activists' rights.
Teng Biao, one of the visitors, said it was the first time Tsai had set up a meeting with so many pro-democracy activists.
Despite her sharply worded comments, Tsai and her independence-leaning Democratic Progressive Party have generally kept their distance from the Tiananmen exiles, some of whom support cross-strait unification.
Since the DPP's first election victory in 2000, increasing numbers of people on the island have identified themselves primarily or exclusively as Taiwanese rather than Chinese, and events to mark the 1989 crackdown have dwindled.
On the 20th anniversary of the June 4 killing more than 200,000 people took part in a memorial event in Hong Kong, a sharp contrast to the handful of people who marked the event in Taiwan.
"I guess that might be because we no long cared that much about the [1989] incident over the years. June 4 is just a symbol we use to justify our push for further democracy in Taiwan," said Chen Wei-ting, a former leader of the Sunflower movement that formed in 2014 to protest against a cross-strait trade deal with the mainland.
Analysts said Tsai hoped the Tiananmen anniversary would remind people of the need to reject the mainland's overtures to protect Taiwan's hard-won democracy.
"By reiterating her stand against one country, two systems, Tsai has built up her image as being the leader who is willing to defend Taiwan's sovereignty despite mounting pressure from Beijing," said Wang Kung-yi, a professor of political science at Chinese Culture University in Taipei.
Tsai, who is running for a second four-year term in January, has seen her approval rating rebound recently to around 40 per cent from a low of 20 per cent after the DPP's humiliating defeat in last year's local government elections.
The mainland-friendly Kuomintang made a string of gains at the DPP's expense to punish it for unpopular labour and pension reforms and the economy's poor performance.
Source: SCMP