In the last half of the 20th century US worries about a rising Japan led to tariffs and technology mistrust
Differences in the Chinese experience may predict a different outcome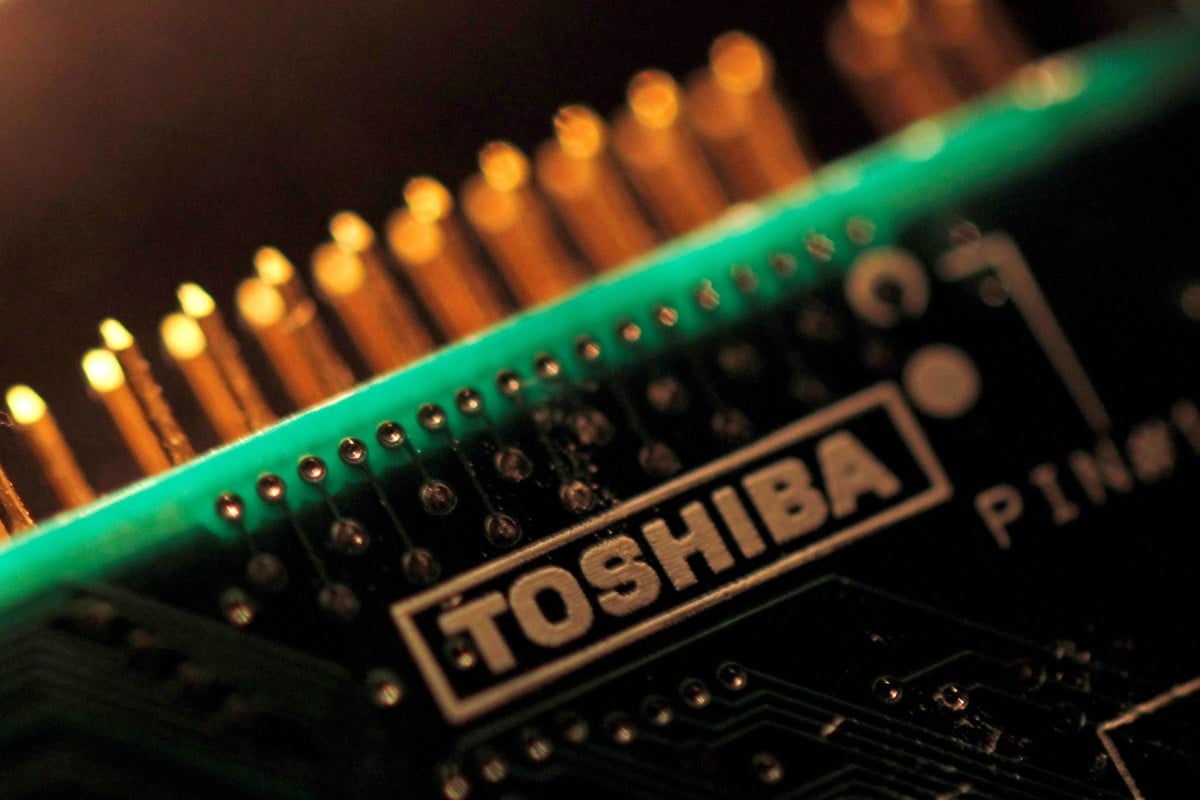 Toshiba was one of the companies affected by US actions to prevent the rise of Japan in a trade war that echoes in today's tensions between the US and China. Photo: Reuters
If history is a mirror to the future, the similarities between the spiralling technology stand-off between China and the US and the economic wars waged by the US with Japan – which peaked in the 1980s and 1990s – may be instructive. But there are differences between the two which may predict a different outcome.
The US-Japan economic tensions started in the 1950s over textiles, extended to synthetic fibres and steel in the 1960s, and escalated – from the 1970s to 1990s – to colour televisions, cars and semiconductors, as Japan's adjusted industrial policy and technology development moved it up the industrial chain.
Boosted by government support, Japan's semiconductor industry surpassed the US as the world's largest chip supplier in the early 1980s, causing wariness and discontent in the US over national security risks and its loss of competitiveness in core technologies.
The Reagan administration regarded Japan as the biggest economic threat to the US. Washington accused Tokyo of state-sponsored industrial policies, intellectual property theft from US companies, and of dumping products on the American market.
The US punished Japanese companies for allegedly stealing US technology and illegally selling military sensitive products to the Soviet Union. It also forced Japan to sign deals to share its semiconductor technologies and increase its purchases of US semiconductor products.
"The Trump administration is using similar tactics against China that were used against Japan in the 1980s and 1990s," said an adviser to the Chinese government, on condition of anonymity, adding that the US was continuing its hegemony to curtail China's tech development and was trying to mobilise its allies to follow suit.
After talks to end the US-China trade faltered last month, Huawei – a global leader in the 5G market – is now standing at centre stage of a protracted technology stand-off between Beijing and Washington, which has grown increasingly wary of the rising competitiveness of Chinese tech companies.
Zhang Monan, a researcher with the Beijing-based China Centre for International Economic Exchanges, does not foresee an easing of the rivalry between the US and China.
"The current US-China conflicts are more complicated than those between the US and Japan," she said.
"The US will only get more intense in its containment of China and the tech rivalry won't ease, even if China and the US could reach a deal to de-escalate the trade tensions."
Back in 1982, the US justice department charged senior officials at Hitachi with conspiracy to steal confidential computer information from IBM and take it back to Japan. IBM also sued Hitachi. The two companies settled the case out of court and Hitachi paid 10 billion yen (US$92.3 million) to IBM in royalties in 1983, while accepting IBM inspections of its new software products for the next five years.
Toshiba, a major electronics producer in Japan, and Norway's Kongsberg Vaapenfabrikk secretly sold sophisticated milling machines to the Soviet Union from 1982 to 1984, helping to make its submarines quieter and harder to detect. This transfer of sensitive military technology in the middle of an arms race between the US and the Soviet Union was not revealed until 1986.
The US issued a three-year ban on Toshiba products in 1987 and the company ran full-page advertisements in more than 90 American newspapers apologising for its actions.
In 1985, the US imposed 100 per cent tariffs on Japanese semiconductors. A year later, in its five-year semiconductor deal with the US, Japan agreed to monitor its export prices, increase imports from the US, and submit to inspections by the Office of the United States Trade Representative.
This was followed by a second five-year semiconductor deal in 1991, in which Japan agreed to double the US market share in Japan to 20 per cent. In yet another bilateral semiconductor deal in 1989 Japan was required to open its semiconductor patents to the US.
Meanwhile, the US government boosted its efforts to help American businesses cement their industrial leverage in the chip sector and unveiled rules to protect its domestic chip industry.
The two countries were irreconcilable in 1996 on how to measure their respective market share. Overall market circumstances had also changed by then, with the US becoming competitive in microprocessing, and South Korea and Taiwan emerging as strong rivals to Japan.
Its dominance in semiconductors lost, Japan reached out to Europe for a range of cooperative technology deals.
Cooperate, don't confront: academic advises Beijing on trade war tactics
"History can tell that high technology matters greatly to national security strategies. It is not a process of mere market competition. It follows the law of the jungle," Zhang said.
The US has intensified its investment scrutiny by rolling out the Foreign Investment Risk Review Modernisation Act last year, which extends the regulation to key industrial technology sectors.
Zhang predicted the US would continue to contain China's technological development in key sectors such as AI, aerospace, robots and nanotechnology – all of which are of great importance to Beijing.
The US has said Chinese tech giants Huawei and ZTE present a national security risk. Last April it cut US supplies to ZTE, citing violations of sanctions against Iran and North Korea. The ban was removed three months later after ZTE paid US$1.4 billion in fines.
It was a wake-up call for China to develop its own core technologies. The subsequent US ban on Huawei added to the urgency to do so, observers said.
Wang Yiwei, a professor in international relations with Renmin University, said China had to develop its own hi-tech know-how while continuing the opening up process.
"China has paid a price to learn whose globalisation it is," he said.
"We may see some extent of disengagement with the US in technology and dual-use sectors, but China can speed up cooperation with European countries, and other countries such as Israel, to offset the risks from the US."
In December, the US filed criminal charges against Huawei and its chief financial officer Sabrina Meng Wanzhou, alleging bank fraud, obstruction of justice and technology theft.
The squeeze continued last month with the US blacklisting Huawei, restricting its access to American hi-tech supplies and putting pressure on its allies to freeze the company out of the 5G market. So far, those allies, including Germany and Japan, have remained hesitant about meeting the US request and refrained from siding with either country.
Chinese foreign ministry spokesman Geng Shuang said on Monday that Huawei had obtained 46 commercial contracts in 30 countries as of June 6, "including some US allies and some European countries that the US has been working hard to persuade out of the contracts".
For Zhang, the differences between Japan's experience of US concerns of technological advancement and China's may offer some hope for Chinese ambitions.
"Dependent on US for security protection, Japan was limited in [its ability to] push back and was already a developed country," she said.
"But China has huge domestic market potential to address the imbalance [between] economic and technology development. This remains a big attraction to multinational companies, which would enable China to integrate into global innovation and technology cooperation, but China has to figure out how to dispel the doubts on its growth model."
Source: SCMP