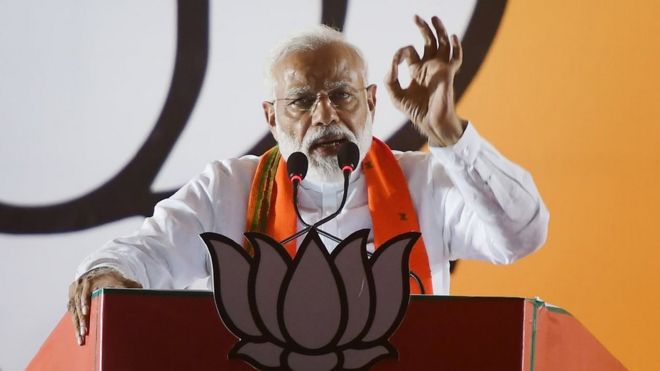 India is in full election mode: voting began on 11 April, and the final ballot will be cast on 19 May with results out on 23 May. Every day, the BBC will be bringing you all the latest updates on the twists and turns of the world's largest democracy.
What happened?
Indian Prime Minister Narendra Modi has attended first ever press conference at the Bharatiya Janata Party (BJP) head office in Delhi – days before Indians take part in the final stage of voting.
But journalists were left disappointed as he did not take any questions, and instead largely talked about his government's achievements.
"I have come to thank the country for blessing me. I have seen a lot of ups and downs but the country stayed with me," he said.
Mr Modi also spoke of his pride in India's democratic process and said he needs to show the world "how diverse our democracy is".
Mr Modi was seated next to party president Amit Shah. He said he would not take questions because the press conference was Mr Shah's.
Earlier, the prime minister said he would "never be able to forgive" those who have "insulted" Mahatma Gandhi.
Mr Modi's statement comes after controversial Bharatiya Janata Party (BJP) politician Pragya Thakur called Nathuram Godse – the man who assassinated Mahatma Gandhi – a "patriot".
Ms Thakur apologised after several leaders, including those from the BJP, criticised her.
"Such statements should be condemned. There is no place in society for such comments. She [Ms Thakur] may have apologised, but I will never be able to forgive her," he said in an interview to News24 TV channel.
Why does this matter?
This is the first time Mr Modi has attended a press conference as prime minister while in India. Most of his press conferences have been on state visits to other countries and often involved little more than reading out an official statement.
He has given some one-on-one interviews to Indian media, though critics say that these have largely been tightly controlled and given to journalists seen as sympathetic to him. However in recent weeks he has given a flurry of interviews to several leading publications and television channels, including those that have been critical of him.
But if people were expecting a complete about-turn in his media policy this time, they would have been disappointed.
This caused some frustration among journalists on Twitter.


Also on Friday, a BJP candidate apologised for calling Gandhi's killer a patriot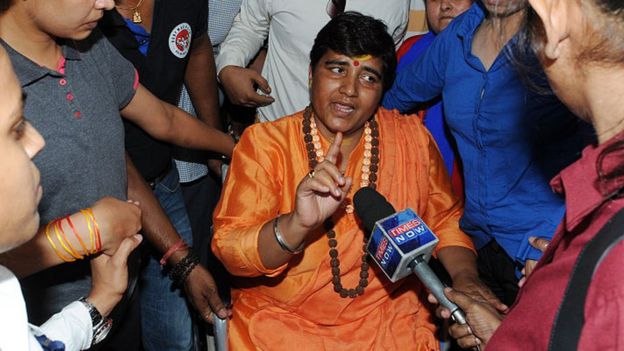 What is happening?
Bharatiya Janata Party (BJP) politician Pragya Thakur has apologised after calling Nathuram Godse – the man who assassinated Mahatma Gandhi – a "patriot".
Several political parties had criticised her comment and her own party demanded that she should publicly apologise.
"It was my personal opinion. My intention was not to hurt anyone's sentiments. If I've hurt anyone, I do apologise. What Gandhi Ji has done for the country cannot be forgotten. My statement has been twisted by the media," Ms Thakur said on Thursday evening.
She made the comment after actor-turned politician Kamal Haasan said Godse was India's first Hindu "extremist" earlier this week.
Why does this matter?
The BJP as well as opposition parties immediately reacted to her comment, which also caused a storm on social media.
BJP spokesperson GVL Narasimha Rao said that the party does not agree with her statement, and asked her to publicly apologise.
The main opposition Congress party demanded an apology from Prime Minister Narendra Modi and said that the BJP should take "punitive action" against Ms Thakur.
Congress spokesperson Randeep Surjewala said that "insulting martyrs is in the BJP DNA" and that the "soul of the nation" has been hurt by her remarks.
Congress party leader Priyanka Gandhi also lashed out at the BJP.
Political analysts also say that her comments have put the BJP in a tough spot, since Mr Modi and BJP president Amit Shah defended their decision to field her as a candidate despite terror charges against her.
Her candidature caused outrage as she is an accused of involvement in a blast that killed seven people and injured 100 others. Ms Thakur denies all charges against her.
However, Ms Thakur's comments do reflect the views of some right-wing Hindus who support the BJP and have long seen Gandhi as too moderate.
Godse, who shot Gandhi in the chest three times at point-blank range on 30 January 1948, was also an activist with nationalist right-wing groups, including those closely associated with the BJP.
Hindu hardliners in India accuse Gandhi of having betrayed Hindus by being too pro-Muslim, and even for the division of India and the bloodshed that marked Partition, which saw India and Pakistan created after independence from Britain in 1947.

On Thursday, a ruling party candidate called Gandhi's killer a patriot
What happened?
Controversial Bharatiya Janata Party (BJP) politician Pragya Thakur made headlines again. This time it was for calling Nathuram Godse – the man who assassinated Mahatma Gandhi – a "patriot".
Her comment was made in response to a statement by southern actor-turned politician Kamal Haasan who had said India's first "extremist" was a Hindu", referring to Godse.

His statement, made on Monday, was heavily criticised by the BJP, which accused him of indulging in "divisive politics" and filed a complaint against him with the Election Commission of India.
Why does this matter?
The BJP responded by criticising Ms Thakur and asking her to publicly apologise.
"BJP does not agree with this statement, we condemn it. Pa