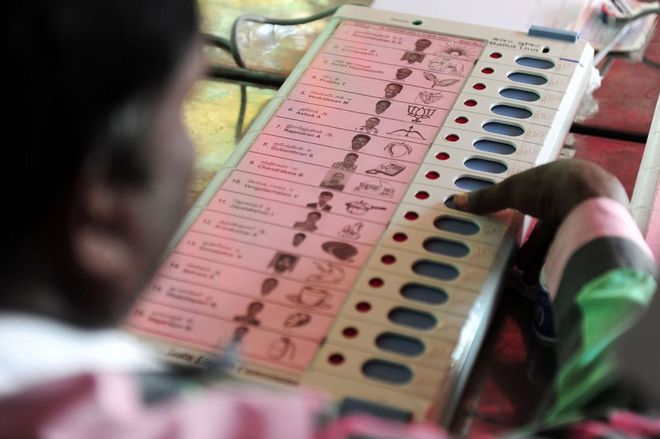 India's election is nearly over: voting began on 11 April, and the final ballot was cast on 19 May with results out on 23 May. Every day, the BBC will be bringing you all the latest updates on the twists and turns of the world's largest democracy.
What happened?
India's Election Commission has denied allegations that voting machines had been tampered with in parts of India.
India's opposition parties are meeting the election watchdog on Tuesday to demand more transparency in counting of votes on 23 May (Thursday).
Opposition leaders said the EC had to ensure that there was no possibility of anybody manipulating the Electronic Voting Machines (EVMs) which were used to record votes in the general election that concluded on Sunday.
In Uttar Pradesh's Ghazipur constituency, a candidate belonging to the opposition Bahujan Samaj Party held a protest outside a room where the machines have been stored ahead of the counting. The candidate alleged that attempts were being made to take out the machines from the storage room.
Local officials have said the allegations are baseless.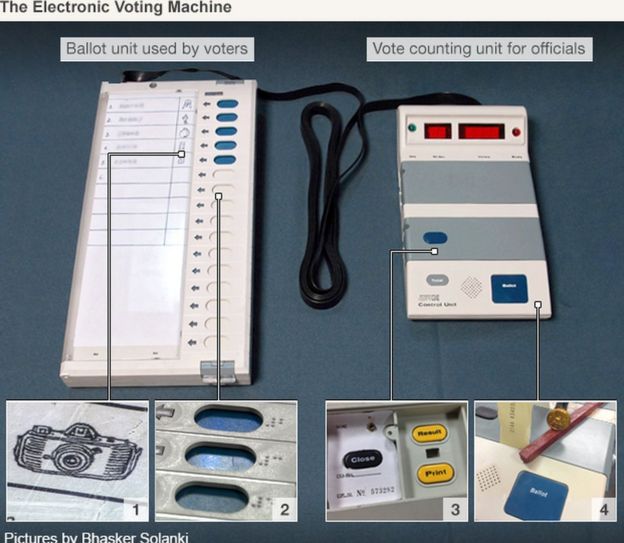 The Supreme Court has ordered the EC to tally the results from five EVMs with VVPAT receipts in at least five polling stations in every assembly seat. A parliamentary constituency comprises several assembly seats.
But opposition parties say that the tally should done for the entire constituency in case of a mismatch.
"On VVPATs and the EVM tally, the EC is yet to come out with a procedure in case there is a mismatch. Even if there is one mismatch in the EVMs or VVPAT samples picked for counting, to maintain the integrity of the electoral process, all VVPATs in that Assembly segment must be counted. This is important to maintain integrity of the electoral process," Mr Yechury said.
If this were to happen however, it would considerably slow down the counting process and declaration of results.

PM Modi tweets tribute to former PM Rajiv Gandhi
What happened?
Prime Minister Narendra Modi has tweeted on the occasion of the death anniversary of former PM Rajiv Gandhi.
Mr Modi has repeatedly attacked Mr Gandhi on the campaign trail and his slurs have prompted widespread criticism.
He called Mr Gandhi the "number one corrupt man in the country" at a rally earlier this month in the northern state of Uttar Pradesh. A few days later, he went after Mr Gandhi again – accusing him of using a naval aircraft carrier to take him and his family to an island for a "family holiday".
Mr Gandhi was assassinated by a suicide bomber in 1991 during a campaign rally.
Why does this matter?
Mr Modi's tweet marking Mr Gandhi's death anniversary is customary – but it has garnered attention because he attacked the former prime minister repeatedly while campaigning and didn't back down when challenged.
Many were taken aback by Mr Modi's criticism of Mr Gandhi. It elicited condemnation not just from the main opposition Congress party, but other regional opposition leaders, political commentators and even former political opponents of Mr Gandhi.
Analysts said the comments were a sign of "desperation" and showed that Mr Modi "knew" his party was not going to perform as well as expected in the election.
Now that campaigning is over and the election is nearly at an end, Mr Modi seems to be abandoning acerbic rhetoric for something more conciliatory.

On Monday, opposition rejects exit poll results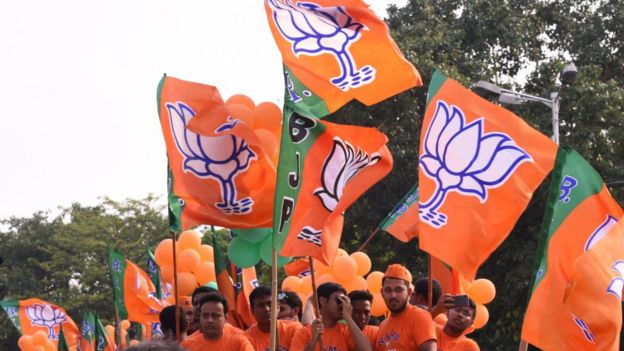 What happened?
Opposition leaders have dismissed the exit polls, which suggest that the governing Bharatiya Janata Party (BJP) is on course to win the general election.