President Tsai Ing-wen says Taipei should 'maintain a high degree of vigilance'
Exercise simulates response to attack from mainland on military bases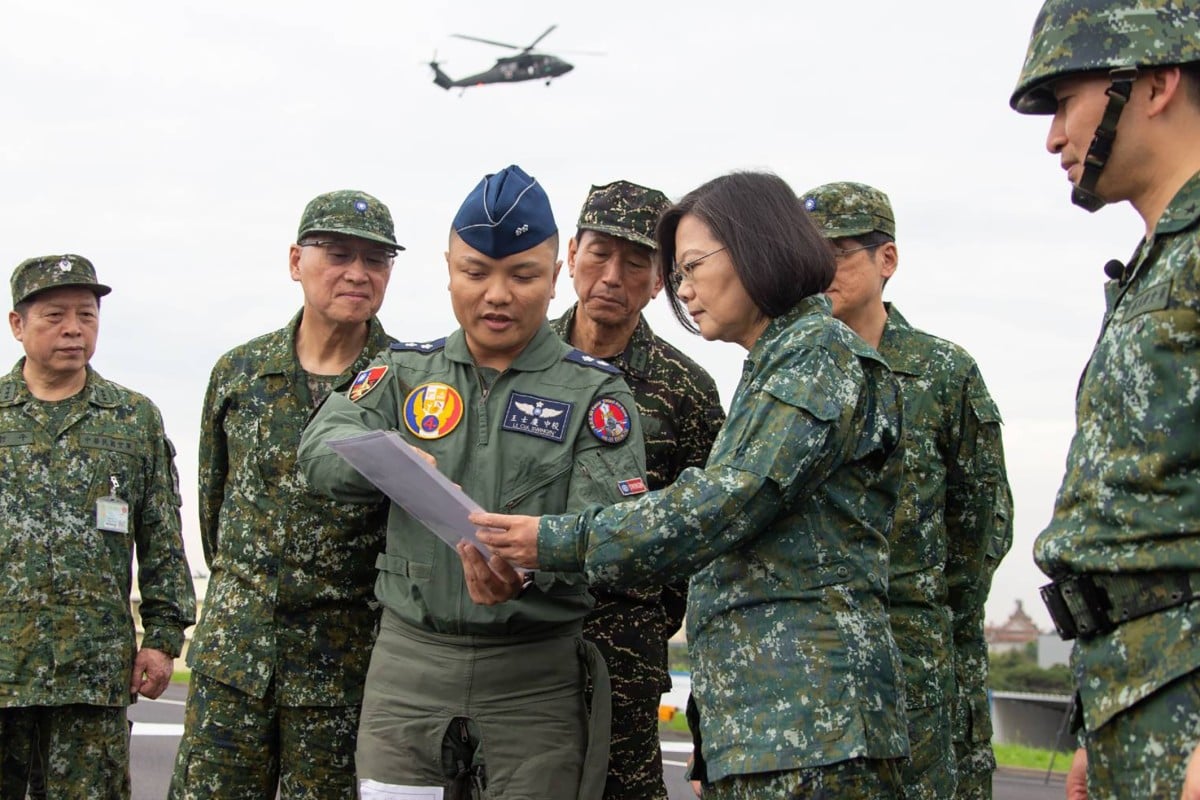 President Tsai Ing-wen and senior Taiwanese military staff during an exercise in southern county Changhua, not far from one of the island's main airbases at Taichung. Photo: Facebook
Taiwanese warplanes landed on a highway on Tuesday as part of annual exercises designed to test the island's military capabilities and resolve to repel an attack from the mainland across the Taiwan Strait.
President Tsai Ing-wen watched the exercise in the southern county of Changhua, not far from one of Taiwan's main airbases at Taichung.
"Our national security has faced multiple challenges," Tsai said. "Whether it is the Chinese Communist Party's [People's Liberation Army] long-distance training or its fighter jets circling Taiwan, it has posed a certain degree of threat to regional peace and stability.
"We should maintain a high degree of vigilance," she said.
Aircraft involved in the exercise included US-made F-16 Fighting Falcons, French Mirage 2000s, Taiwan-made IDF fighter jets and US-built Northrop Grumman E-2 Hawkeye surveillance aircraft.
Ground crews practised refuelling and ammunition replenishment before the aircraft returned to the air. About 1,600 service personnel were mobilised in Tuesday's exercise.
The event marked the exercise debut of the first F-16 upgraded to the V variant, featuring advanced radar and combat capabilities. Taiwan is spending about US$4.21 billion to upgrade 144 F-16As and Bs to the F-16V version.
Rare meeting between Taiwanese, US security officials angers Beijing
Taiwan buys military hardware mainly from the US and has asked to purchase new F-16V fighters and M1 Abrams tanks.
American arms sales to Taiwan have long been a thorn in the side of US relations with China, routinely drawing protests from Beijing that Washington had reneged on commitments.
Beijing has also been angered by warming relations between Taipei and Washington since Tsai came to power in 2016.
On Monday, Beijing reacted frostily to photos showing a rare meeting between uniformed Taiwanese officers and their US counterparts this month.
Last week, Beijing lodged a protest with Washington after two US warships sailed through the Taiwan Strait.
Taiwan expected to be outgunned in terms of troop numbers and firepower in any war with mainland China but it claimed to have had developed sophisticated asymmetric warfare tactics to make any invasion costly for Beijing.
"There are only a few military airbases which would become the prime targets in the event of an attack. The highway drill is necessary as highway strips would be our priority choice if the runways were damaged during a war," air force Colonel Shu Kuo-mao.
Taiwan changes name of de facto embassy in United States to 'reflect stronger ties'
Taiwan's Central News Agency said highway take-off and landing drills last took place in 2014. A military source told CNA that Tuesday's drill was not much different from those conducted by the military during the Han Kuang exercises, but it was still challenging.
Among the challenges were that the drill could not be rehearsed and it required clear communications between the military, police and the National Freeway Bureau, said the source.
Source: SCMP