China produces 90 per cent of the world's rare earth minerals, used in hi-tech production such as electric vehicles
Rare earth minerals one of the few goods not hit by incoming US tariffs on US$300 billion of Chinese goods as trade war escalates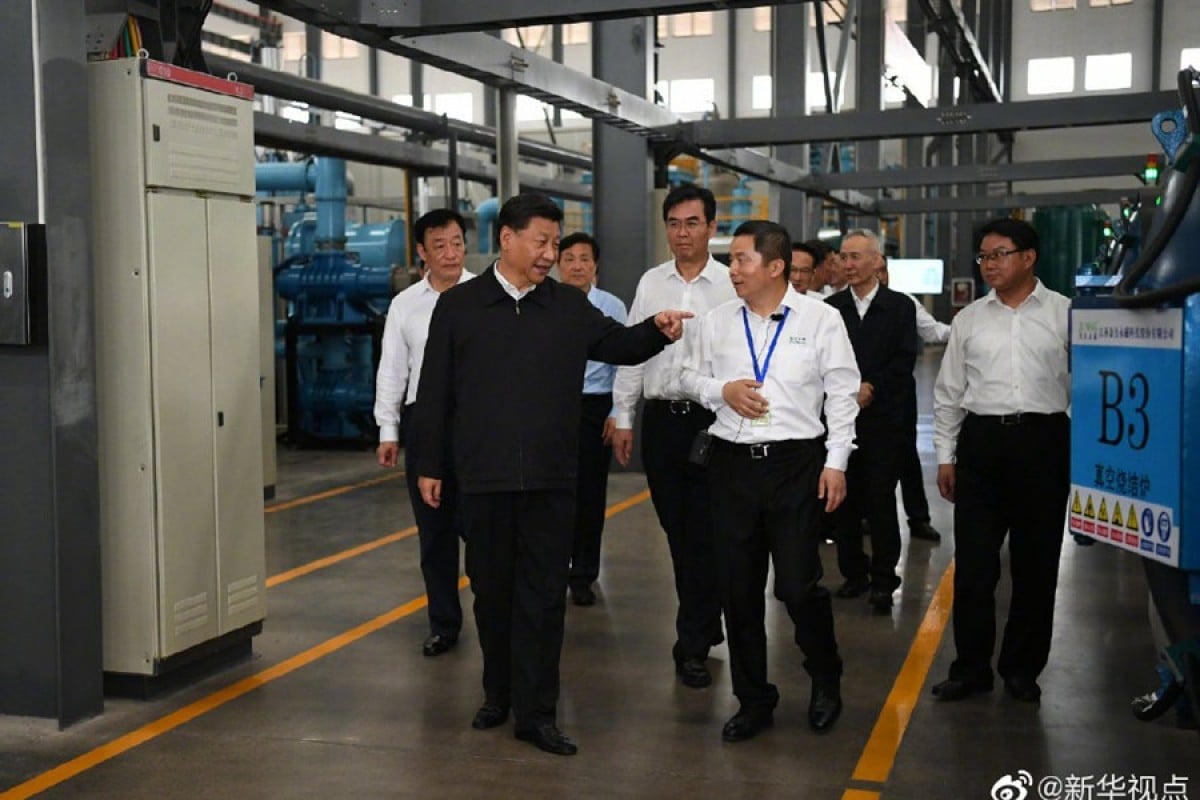 President Xi Jinping paid a visit to the country's rare earth mining base in Jiangxi province on Monday, according to the official Xinhua news agency, in his first domestic tour after the trade talks between Beijing and Washington ended without a deal. Photo: Xinhua
Chinese President Xi Jinping visited one of the country's major rare earth mining and processing facilities on Monday, in his first domestic tour since the 
of the US-China trade war.
Xi's visit, reported by the official Xinhua news agency, comes amid growing discussion in China that Beijing could consider banning the export of such minerals as a weapon 
Rare earth minerals were among the few items excluded from the latest US government plans to implement tariffs on almost all of China's remaining exports to the United States, highlighting their strategic importance. These tariffs, which are set to be levied on Chinese goods worth an estimated US$300 billion, 
as early as July, according to the Office of the US Trade Representative.
The state media report, which includes one sentence of text and two pictures, made no mention of the trade war, but speculation is mounting that rare earth minerals could form a key part of China's retaliation.
China is the world's largest producer and exporter of rare earth minerals, which contain at least one of the 17 rare earth elements, many of which are vital to a number of low-carbon technologies, such as high-performance magnets and electronics.
It accounts for 90 per cent of global production, however the government has been carefully managing mining levels and it was reported last year that amid production quotas, the country became a net importer of rare earth minerals last year.
Jin Canrong, a professor of international relations at Renmin University in Beijing, wrote an article last week suggesting that China could ban rare earth exports to the US as a way to punish the US for
. China does not import enough goods from the US to retaliate in pure tariff terms.
The Chinese government has weaponised the trade of rare earth exports before, slashing the export quota by 40 per cent in 2010. The US, Japan and the European Union filed a compliant against the Chinese quota at the World Trade Organisation in 2012, with the WTO ruling against China. Beijing dropped its export restrictions in 2015.
According to the report, Xi visited JL Mag Rare Earth Co, a major rare earth processing company based in Ganzhou, Jiangxi province and "studied" the local rare earth industry. Ganzhou is the heartland of China's rare earth mining and processing industry.
Xi was accompanied by vice-premier Liu He, who has been China's top trade negotiator in the long-running talks with the US and who is Xi's most trusted economic adviser. Also on the trip was a delegation of company officials and local cadres.
JL Mag is a leading supplier of high-performance rare earth magnets, which are widely used in intelligent manufacturing operations, energy-saving applications, and in the production of robots and new energy vehicles, according to the company's website.
Images of Xi's trip show a sign saying that the company is trying to build up "a rare metal industry base of tungsten with strong international competitiveness".
Banning rate earth exports to the US is one of several ideas percolating in Chinese public discussions of possible trade war 
Other analysts have suggested that China could sell its $3 trillion stockpile of US dollar-denominated securities, or allowing the yuan exchange rate to depreciate significantly, which would make Chinese exports cheaper for overseas buyers, helping to mitigate the effect of tariffs.
Source: SCMP