Father of three is killed as flames engulf car in crash at stop light in Henan
Woman from wealthy family is held as police investigate drink-driving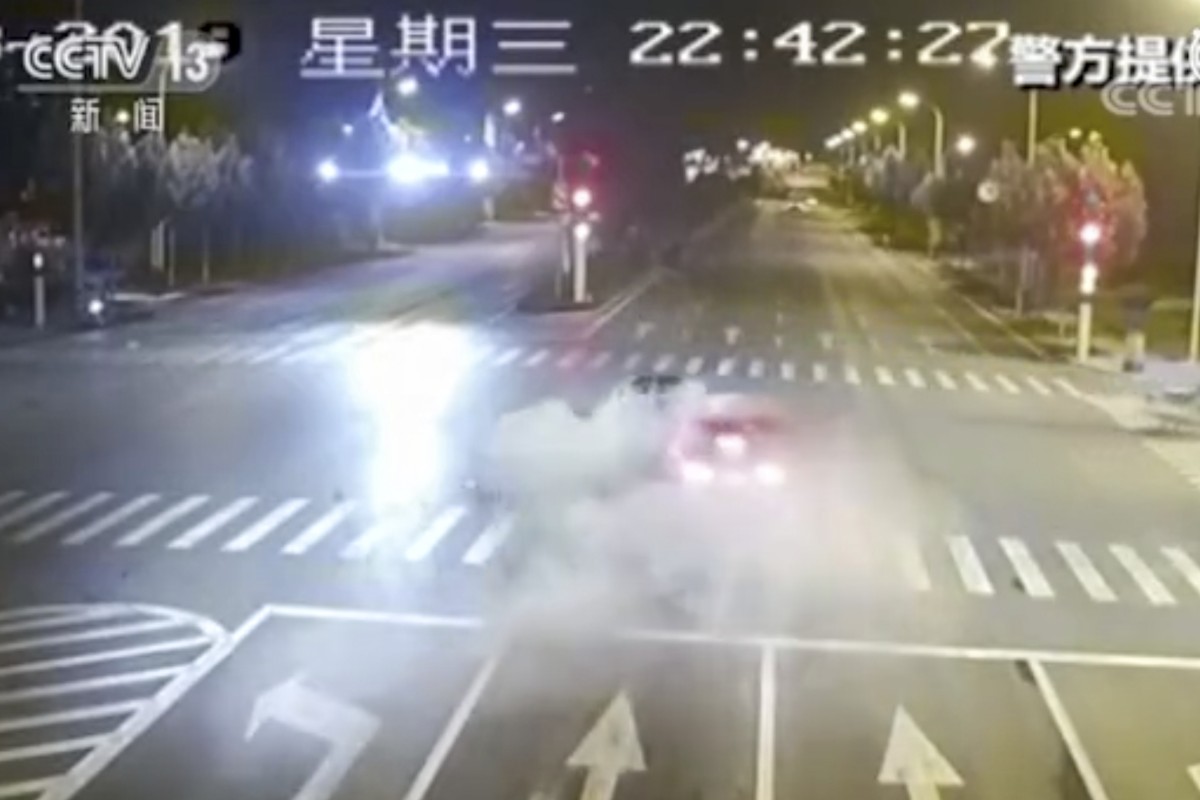 Footage from an intersection in Yongcheng, Henan shows the BMW being propelled across the road before bursting into flames. Photo: Weibo
A driver and her two passengers are in custody in central China after the Maserati SUV she was driving slammed into a BMW, killing two men.
Police said a 23-year-old woman surnamed Tan drove the Maserati through the streets of Yongcheng in Henan province on Wednesday night, scraping against cars on the way.
They said her vehicle struck the BMW at a red traffic light, causing it to burst into flames, killing two passengers and injuring the driver.
Tan and two others in the SUV, a woman and a man, were also injured. All three were detained by police but have not yet been charged. Police said Tan returned a blood-alcohol reading of 0.167 – well over the legal limit of 0.02.
State broadcaster CCTV reported that Tan and friends Zhang and Liu had met at a barbecue restaurant that night for dinner, according to police. After drinking, Tan took her friends for a drive. The Maserati scraped against multiple cars before the driver was slowed down by pedestrians signalling for her to stop, but she suddenly sped away from the scene. It crashed into the BMW soon afterwards, CCTV said.
Two men in the back of the BMW were killed in the fire that engulfed the vehicle, while the driver, also a man, suffered severe burns, according to the report. The occupants of the Maserati were treated in hospital for bone fractures and abdominal injuries, CCTV said.
The accident has prompted heated online discussion in China, with some calling for the death penalty for "such reckless behaviour and disregard for the law".
Others have doxxed the detained driver – finding photos on a Weibo account that allegedly belonged to Tan showing she had an appetite for luxury goods and expensive cars.
In recent years, a "hate the rich" sentiment has emerged in Chinese society. As the wealth gap widens, many people have become vocal about injustices they feel are fuelled by the affluent and privileged.
Others voiced anger at the legal system, saying wealthy people could buy the law.
Coach driver in crash that left five dead and 32 injured had been working 12-hour shifts, Hong Kong police say
Source: SCMP