Annual tests still an academic pressure cooker for students wanting to get into the nation's top universities, despite efforts to change the system
The gruelling exam is the sole criteria for admission to university in China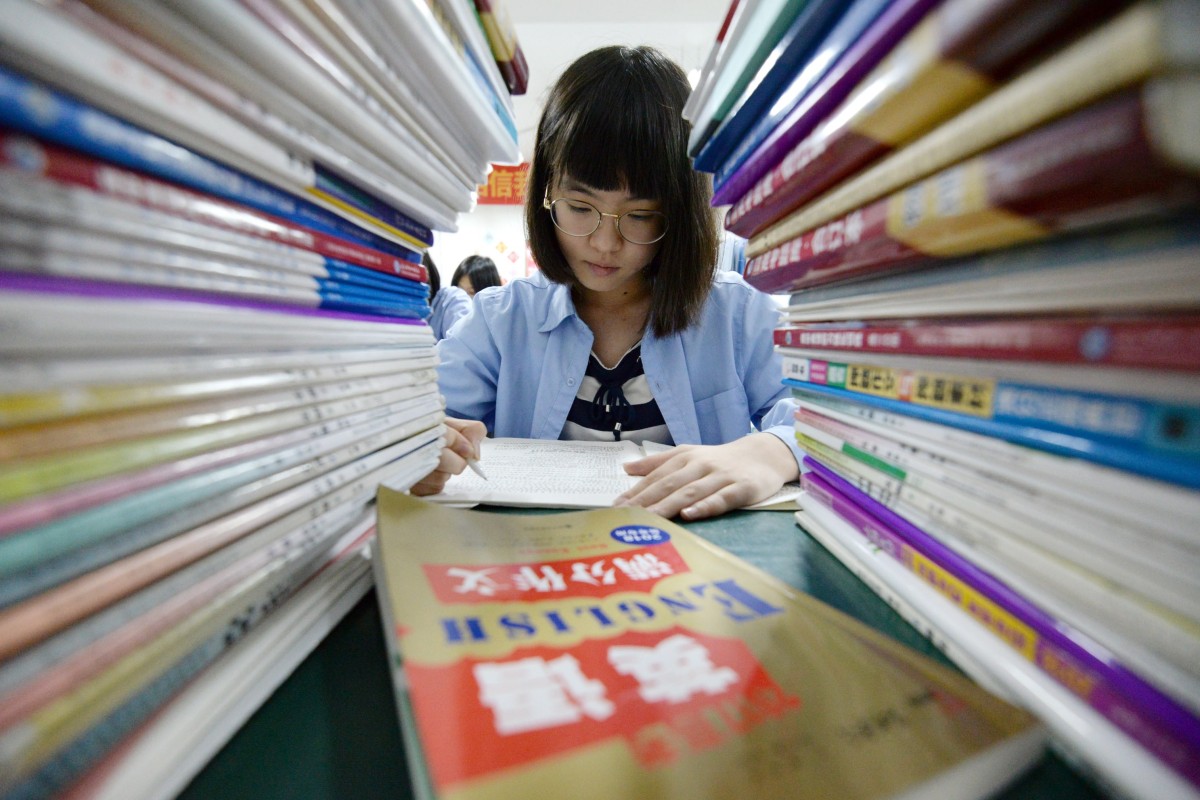 After months of study, China's high school students are about to be put to the test in the annual "university entrance examinations which begin on Friday. Photo: EPA-EFE
For the past six months, the life of 18-year-old Shanghai student Xiao Qing has revolved around preparation for one of China's annual rites of passage.
Every day at school, from 7.20am to 5.30pm, the final-year secondary school student in Changning district has studied previous test papers for the 
gaokao
, officially known as the National Higher Education Entrance Examination.
"Sometimes I feel my bottom hurts from sitting for so many hours," she said. "We feel like we are test machines."
Xiao Qing will put all of that preparation to the real test from Friday, when over two to three days she will be among more than 10 million people trying to qualify for one of the spots at a Chinese university.
Most students get just one shot at the 
gaokao
, the sole criteria for admission to university in China. It's a gruelling process that has been criticised over the years as too focused on rote learning, putting too much pressure on students and privileging applicants living near the best universities.
Education authorities have gone some way to try to address these problems. In 2014, the Ministry of Education started letting students choose half of their subjects to introduce some flexibility into the system.
Apart from the compulsory subjects of Chinese, mathematics and English, students are now supposed to be able to choose any three of six other subjects: physics, chemistry, biology, politics, history and geography.
Previously, secondary school students had been split strictly into liberal arts or science majors in a system that was introduced in 1952 and revived in 1977 after being suspended during the Cultural Revolution.
Last go at exam success for China's 'gaokao grandpa'
Wen Dongmao, a professor from Peking University's Graduate School of Education, said the changes expanded the opportunity for students to follow their interests.
"The new gaokao gives students plenty of choices of subjects to learn and to be evaluated on. I think people should choose which subject to learn based on what they are interested in," Wen said.
"Gaokao reform is designed according to some methods by overseas universities, like American and Hong Kong schools. Its direction is right, but there will be inevitable problems brought by it."
One of the problems is the uneven implementation of the changes throughout the country, with just 14 of China's 31 provinces, municipalities and autonomous regions having introduced them.
In the eastern province of Anhui, for example, the reforms were supposed to go in effect from September last year but were postponed without reason, news portal Caixin.com reported.
The report quoted a teacher from Hefei No 1 Middle School in the provincial capital as saying the school was not ready for the changes.
Is the university entrance exam in China the worst anywhere?
"Shanghai and Zhejiang are economically advanced and we are not at that level," he was quoted as saying. "It's a big challenge for us to manage so many students' choices of gaokao subjects."
In neighbouring Jiangxi province, a high school history teacher said many places opposed the reform mainly "because of the shortage of resources".
"It's hard to roll out gaokao reform because we don't have enough teachers or classrooms to handle the students' various choices of subjects. Students can choose three out of six courses and that means there are 20 potential combinations," the teacher was quoted as saying.
In addition, the system allows students to take the tests in more than one year and submit the highest scores when applying to universities.
"I heard from teachers in other provinces that students will take the tests of the selected subjects again and again for fear that other students will overtake them. That's exhausting and will just put more burden on the students," the Jiangxi teacher said.
He also said the gaokao process put extra pressure on teachers who feared the tests would push students to extremes. One of his students contemplated jumping from a bridge after she thought she had done poorly in the Chinese section of the exam.
"She called me, saying she felt it was the end of the world. I was shocked and hurried to the bridge," he was quoted as saying. He spoke to her for more than an hour about before the girl came down, going on to get a decent score.
Critics also say the system is weighted in favour of students in bigger cities such as Beijing, Tianjin and Shanghai, home to the country's top universities.
China private education industry is booming despite economic slowdown
Li Tao, an academic from the China Rural Development Institute at Northeast China Normal University in Changchun, Jilin province, said about 20-25 per cent of gaokao candidates from Beijing, Tianjin and Shanghai were admitted to China's elite universities, compared with just 5 or 6 per cent in places like Sichuan, Henan and Guangdong.
Li said that was because the top universities were funded by local governments and gave preference to applicants from those areas.
"To make it fairer, the Ministry of Education has insisted over the years that elite universities cannot have more than 30 per cent of incoming students from the area in which it is located," he said.
Despite these challenges, gaokao was still a "fair" way to get admitted to university in China, Li said.
"Gaokao is the fairest channel to screen applicants on such a large scale, to my knowledge," he said. "It does not check your family background and every student does the same test paper [if they are from the same region]. Its score is the only factor in evaluating a university applicant."