Major highways gridlocked for hours at start of four-day break
Chaos at railway stations as ticket-holding passengers turned away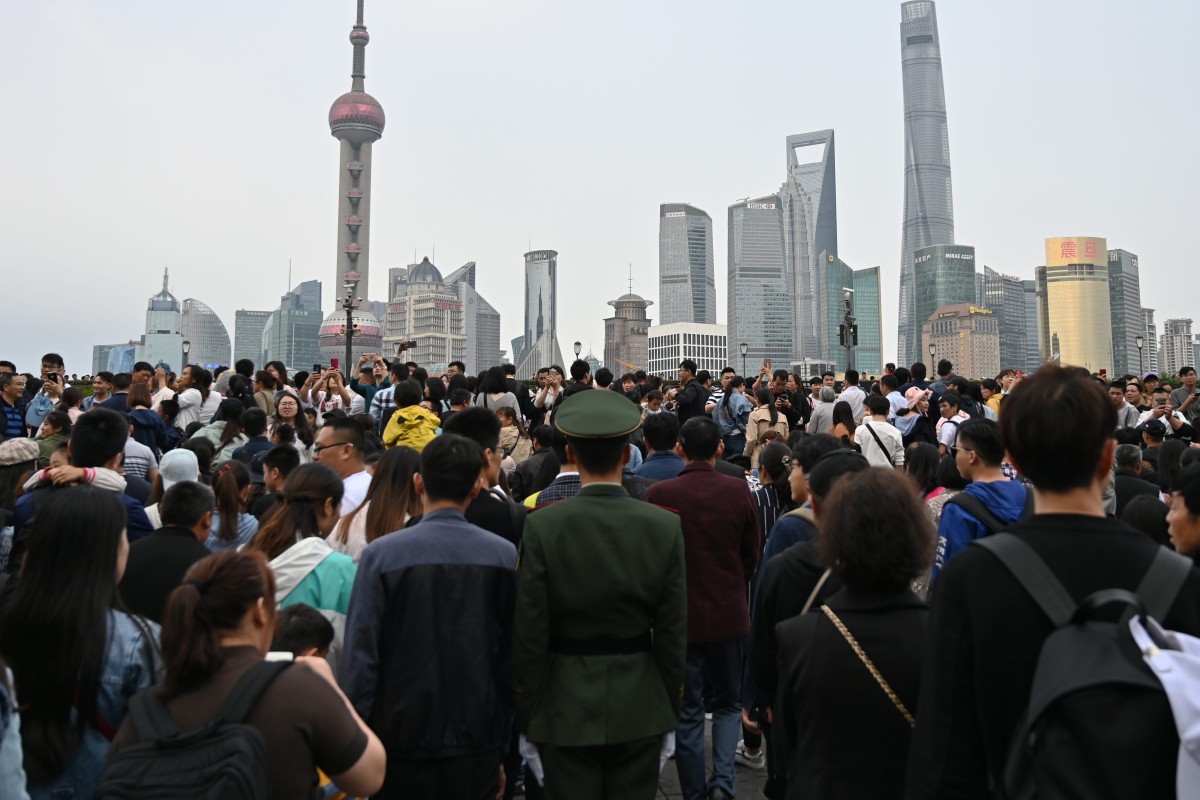 Holiday crowds pack the promenade on the Bund along the Huangpu River in Shanghai on the first day of China's May break. Photo: AFP
China's Labour Day holiday started on Wednesday with gridlocked roads and chaos at railway stations as millions of people took advantage of this year's unusually long break.
Motorists reported being stuck in traffic jams which did not move for hours, while ticket-holding passengers were turned away from some trains due to severe overcrowding on the first day of the holiday.
Travel agency Ctrip estimated that around 160 million domestic tourists would be travelling over the four-day break, according to data from travel booking platforms.
Forty major highways recorded a 75 per cent spike in traffic on Wednesday, according to Xinhua, as toll fares for cars were suspended for the holiday.
Monitoring stations on major routes – including the Beijing-Tibet Expressway, the Shanghai-Shaanxi Expressway, Shanghai's Humin Elevated Road and the Beijing section of the Beijing-Hong Kong-Macau Expressway – recorded a 200 per cent increase in traffic from Tuesday onwards, Xinhua said.
The Ministry of Public Security's traffic management bureau has warned holiday motorists to drive safely, especially on winding mountainside routes.
Online news portal The Paper reported on Thursday that traffic jams on some major routes were so severe that the drive from Shanghai to Hangzhou, capital of neighbouring Zhejiang province, took some travellers seven hours instead of the usual two.
Meanwhile, more than 54,000 tourists visited the popular Badaling section of the Great Wall on Wednesday, according to 
Beijing Youth Daily
. The attraction's management team had increased the number of volunteers, parking spaces and shuttle buses to prepare for the influx, the report said.
More than 53,000 tourists had visited the Shanghai International Tourism Resort and Shanghai Disneyland by 4pm on Wednesday, according to data from the Shanghai municipal government's real-time visitor tracker. The Shanghai Zoo attracted more than 24,000 people, and more than 9,200 visited the Shanghai Science and Technology Museum.
Despite the crowds, no records were broken at the Shanghai attractions, which reached about 70 per cent of their maximum visitor numbers recorded, The Paper reported.
At railway stations, ticket-holding passengers were stopped from boarding trains between Nanjing and the city of Zibo in Shandong province, eastern China, due to severe overcrowding, 
Beijing Youth Daily
 reported on Wednesday.
Station staff promised full refunds to customers with pre-booked tickets who were refused entry.
Source: SCMP