Notice says holidaymaker found his wallet and mobile phone missing after being asked for directions by an attractive woman on the Champs-Élysées
Warnings come just days after Beijing withdraws invitation to join navy's anniversary parade for French frigate that sailed through Taiwan Strait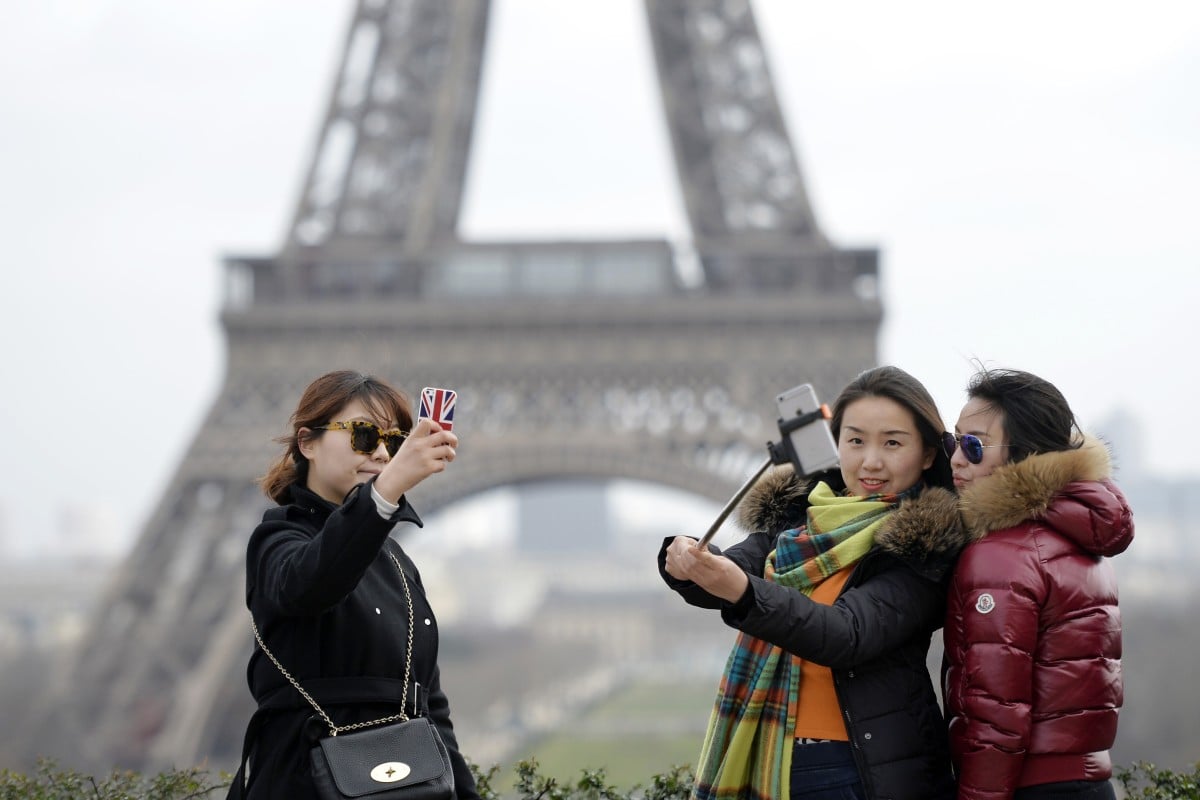 Chinese tourists have been warned to be on their guard when visiting France. Photo: AFP
Chinese visitors to Paris have been warned to be on the look out for a bewitching blonde who preys on the good nature and naivety of tourists to relieve them of their valuables.
According to a series of notices posted on the website of the Chinese embassy in the French capital, the alluring larcenist is just one of a number of con artists and crooks that prowl the city in search of easy targets.
Holidaymaker "Shen" became their latest victim earlier this month, the mission said.
"On April 1, a Chinese citizen surnamed Shen was appreciating the beautiful scenery at Avenue des Champs-Élysées, when a blonde approached him and asked for directions," according to one of the notices posted on the site on Thursday.
"Although Shen was curious why the blonde would chose a foreigner like him for directions, he still replied as he had made some travel preparations."
It was only after the woman had walked away that Shen realised his mobile phone and wallet were missing, it said.
Cherish the love: China and France should disrupting ties, Beijing says
Pickpockets and sneak thieves are a threat to all visitors to France, but the Chinese are often regarded as prime targets because of the belief they carry lots of cash and valuables, the embassy said.
As well as the Champs-Élysées, tourists were warned to take extra care when visiting attractions like the Palace of Versailles and Sacré-Coeur, and when travelling on the subway.
"Be aware of strangers in public places and on public transport, and always pay attention to your belongings," the embassy said.
The notice about Shen did not say if he had reported the suspected theft to the local police.
According to the Paris Region Tourism Board, China accounts for the third largest number of visitors to France after the United States and Britain. Chinese tourists made 1.1 million trips to the country in 2017 and the figure is forecast to grow to 2 million by 2022.
While most experience trouble-free trips, there have been reports of Chinese visitors to France being robbed or even assaulted in recent years.
In November 2017, a group of 
in the car park of their hotel in the Val-de-Marne suburb of Paris after returning from a shopping trip. Their four assailants made off with nine bags filled with luxury goods.
A year earlier, 27 Chinese tourists were attacked by a group of six Frenchmen as they boarded a bus that was about to take them to the airport.