With a defence budget second only to the US, China is amassing a navy that can circle the globe and developing state-of-the-art autonomous drones
The build-up is motivating surrounding countries to bolster their own armed forces, even if some big-ticket military equipment is of dubious necessity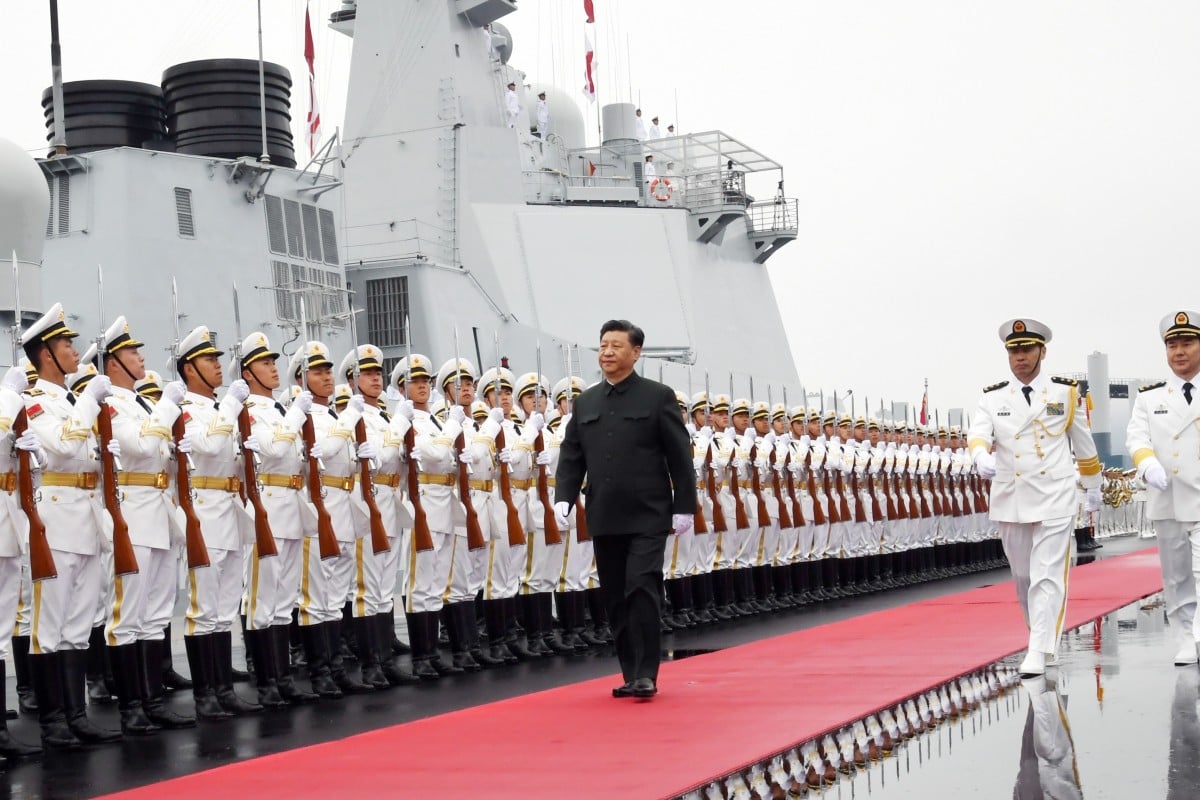 Chinese President Xi Jinping reviews an honour guards before a naval parade in Qingdao. Photo: Xinhua
The Asia-Pacific region is one of the fastest-growing markets for arms dealers, with economic growth, territorial disputes and long-sought military modernisation propelling a 52 per cent increase in defence spending over the last decade to US$392 billion in 2018, according to the Stockholm International Peace Research Institute.
The region accounts for more than one-fifth of the global defence budget and is expected to grow. That was underscored last week by news of 
's bid to strike a
to purchase US tanks and missiles.
The biggest driver in arms purchases, however, is 
– responsible for 64 per cent of military
spending in the region. With a defence budget that is second only to the
, China is amassing a navy that can circle the globe and developing state-of-the-art autonomous drones. The build-up is motivating surrounding countries to bolster their armed forces too – good news for purveyors of submarines, unmanned vehicles and warplanes.
It is no coincidence that the recent 
in
, a security conference attended by
chiefs, was sponsored by military contractors including Raytheon,
and
.
Opinion: How the Shangri-La Dialogue turned into a diplomatic coup for China
Kelvin Wong, a Singapore-based analyst for Jane's, a trade publication that has been covering the defence industry for 121 years, has developed a niche in infiltrating China's opaque defence industry by attending obscure trade shows that are rarely advertised outside the country.
He said the US is eager to train allies in Asia and sell them arms, while also stepping up its "freedom of navigation" naval operations in contested waters in the
and Taiwan Strait. It has lifted a ban on working with
's special forces over atrocities committed in
. And it is considering restarting arms sales to the
.
In his speech at the Shangri-La Dialogue, acting US Defence Secretary Patrick Shanahan touted American advancements in technology "critical to deterring and defeating the threats of the future" and said any partner could choose to win access to that technology by joining the US defence network.
Wong said the message was clear: "Buy American."
The analyst said there is a growing admission among the Chinese leadership that the
has an Achilles' heel: its own personnel.
He said one executive at a Chinese defence firm told him: "The individual Chinese soldier, in terms of morale, training, education and motivation, (cannot match) Western counterparts. So the only way to level up is through the use of unmanned platforms and 
To that end, China has developed one of the world's most sophisticated drone programmes, complete with custom-built weapon systems. By comparison, Wong said,
US drones rely on weapons originally developed for helicopters.
Wong got to see one of the Chinese drones in action two years ago after cultivating a relationship with its builder, the state-owned China Aerospace Science & Technology Corporation. He viewed a demonstration of a 28-foot-long CH-4 drone launching missiles at a target with uncanny ease and precision.
"Everyone knew they had this," Wong said. "But how effective it was, nobody knew. I could personally vouch they got it down pat."
China unveils its answer to US Reaper drone – how does it compare?
That is what Bernard Loo Fook Weng, a military expert at Singapore's S. Rajaratnam School of International Studies, told the author Robert Kaplan for his 2014 book, Asia's Cauldron, about simmering tensions in the South China Sea.
He was describing the competition for big-ticket military equipment of dubious necessity.
is littered with examples of such purchases.
owns an aircraft carrier without any aircraft. Indonesia dedicated about one-sixth of its military budget to the purchase of 11
Su-35 fighter jets. And
splurged on two
submarines it could not figure out how to submerge.
"It's keeping up with the Joneses," Wong said. "There's an element of prestige to having these systems."
Submarines remain one of the more debatable purchases, Wong said. The vessels aren't ideal for the South China Sea, with its narrow shipping lanes hemmed in by shallow waters and coral reefs. Yet they provide smaller countries with a powerful deterrence by enabling sneak attacks on large ships.
Asia and
are home to 245 submarines, or 45 per cent of the global fleet, according to the US-based naval market intelligence firm AMI International.
The Philippines remains one of the last coastal nations in the region without a sub – though it is in talks with Russian builders to acquire some.
Singapore recently received the first of four advanced
Type 218 submarines with propulsion systems that negate the need to surface more frequently. If the crew did not need to eat, the submarine could stay under water for prolonged periods. Wong said the craft were specially built for Asian crews.
"The older subs were designed for larger Europeans so the ergonomics were totally off," he said.
Singapore, China deepen defence ties, plan larger military exercises
Tiny Singapore plays a crucial role securing the vital sea lanes linking the Strait of Malacca with the South China Sea. According to the
the country dedicates 3.3 per cent of its gross domestic product to defence, a rate higher than that of the United States.
State-of-the-art equipment defines the Singapore Armed Forces. Automation is now at the centre of the country's military strategy, as available manpower is shrinking because of a rapidly ageing population.
Wong said Singapore is investing in autonomous systems and can operate frigates with 100 crew members – 50 fewer than they were originally designed for.
"We always have to punch above our weight," he said.
Source: SCMP