UN counterterrorism chief Vladimir Voronkov not expected to make statement after visiting region last week
Trip prompts calls for independent observation in Muslim-majority area where an estimated 1 million people are held in detention facilities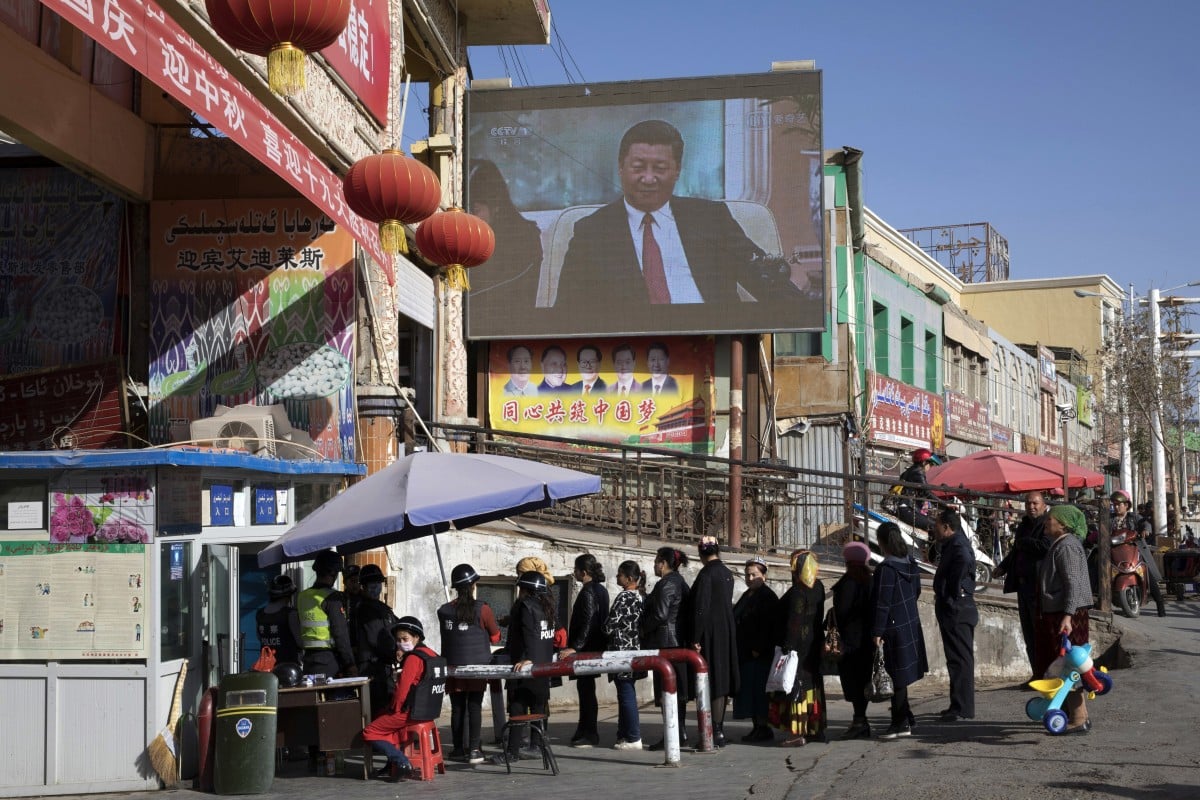 Residents go through a security checkpoint at the entrance to a bazaar in Hotan, Xinjiang. The UN's counterterrorism chief visited the far western region last week. Photo: AP
Human rights group Amnesty International has joined growing criticism of a top UN official's visit to China's 
, echoing calls for more independent investigations of detention facilities for ethnic Uygurs.
The invitation to the United Nations envoy to visit was Beijing's latest attempt to show it has nothing to hide in what it calls "re-education facilities" that hold an estimated 1 million people in the Muslim-majority area in western China.
But critics have warned that state-led media tours and diplomatic visits lack the unfettered access needed to make a proper assessment of alleged rights abuses in the region.
UN counterterrorism chief Vladimir Voronkov 
from Thursday to Saturday and met Le Yucheng, the vice foreign minister, according to a statement from the foreign ministry on Sunday. The statement said the two sides had reached a "broad consensus".
UN human rights chief 'is welcome to visit Xinjiang'
Voronkov's visit follows months of pressure to allow the UN to investigate alleged human rights abuses in Xinjiang. China has so far only allowed guided tours of the region for foreign journalists and diplomatic envoys.
Reuters reported on Saturday that Voronkov's itinerary was planned by China and that his UN office did not expect to make any public statement about the trip, according to an email from Voronkov's office seen by the news agency.
The United Nations said in August last year it had credible reports that detention facilities in Xinjiang held 1 million Uygurs and other Muslims. Beijing says the facilities are for "vocational training" and tied to deradicalisation and anti-terrorism efforts.
Patrick Poon, a Hong Kong-based researcher with Amnesty International, said he was "very much concerned" about how the UN envoy's visit had been arranged.
"From what we saw in the previous visits orchestrated by the Chinese government for diplomats, it's very difficult for anyone to believe how this visit will be able to show any authentic situation on the ground," Poon said.
"If the Chinese government is sincere, let independent UN experts, such as the special rapporteurs, have independent observation of what's happening in Xinjiang."
Xinjiang's vanishing mosques highlight pressure on China's Muslims
His remarks followed criticism of the trip from Human Rights Watch on Friday.
"The UN allowing its counterterrorism chief to go to Xinjiang risks confirming China's false narrative that this is a counterterrorism issue, not a question of massive human rights abuses," Human Rights Watch UN director Louis Charbonneau told Agence France-Presse.
Also on Friday, US Deputy Secretary of State John Sullivan called UN Secretary General Antonio Guterres to express "deep concerns" about Voronkov's visit, according to the State Department website. Sullivan called for "unmonitored and unhindered access to all camps and detainees in Xinjiang by UN human rights officials".
The United States has been increasingly vocal about China's human rights abuses. Vice-President Mike Pence is due to give a speech on China's "control and oppression" of citizens on June 24, but according to Bloomberg it could be postponed to avoid inflaming tensions with Beijing ahead of a possible meeting between US President Donald Trump and his Chinese counterpart Xi Jinping at the Group of 20 leaders summit in Japan on June 28-29. The speech was originally scheduled for June 4 but was delayed by Trump, Bloomberg reported, citing sources familiar with the matter.