Military exercises this week meant to foster image that Beijing can win a war over the island, analyst says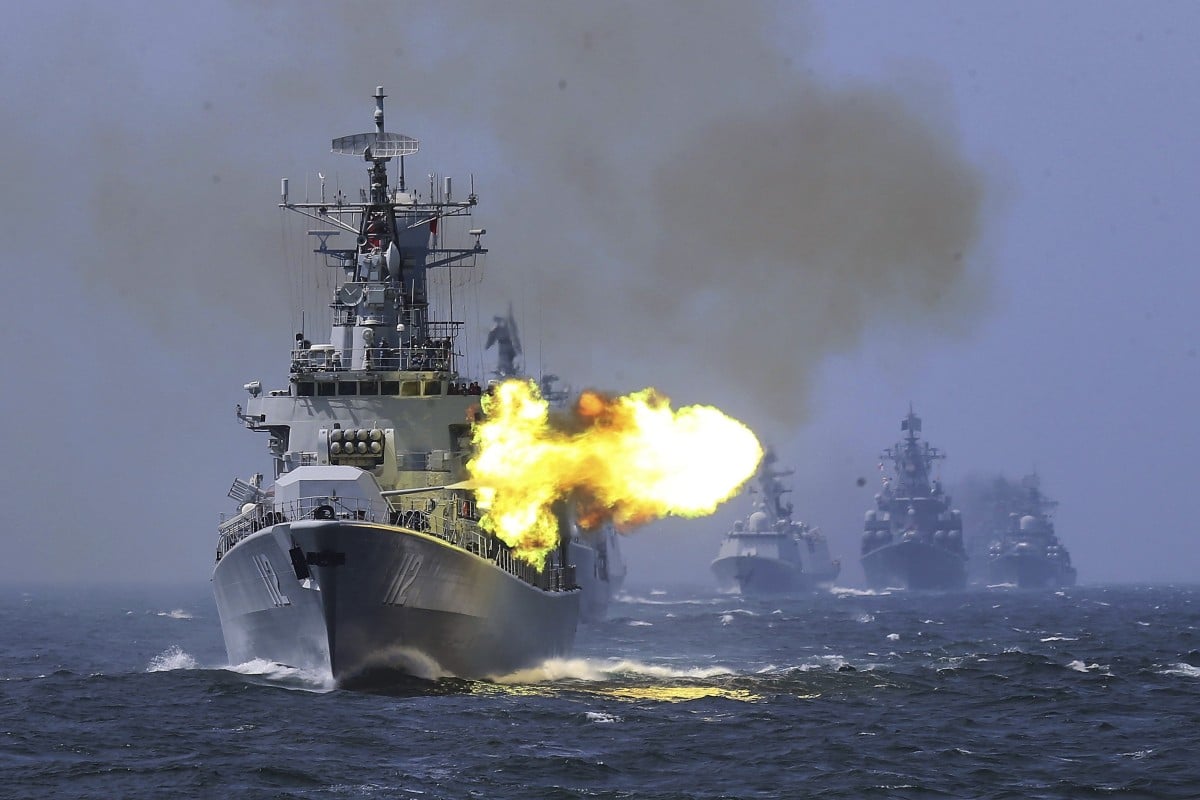 The PLA is staging live-fire drills at the northern end of the Taiwan Strait this week. Photo: AP
Beijing is conducting live-fire military drills at the northern end of the Taiwan Strait as it signals its resolve to thwart "pro-independence forces" in Taiwan.
Authorities in the small city of Yuhuan, Zhejiang province, notified the public on Sunday that a "no-sail zone" and "no-fishing zone" would be in effect in the area until Friday night.
It said the drills were part of the People's Liberation Army's "annual regular exercise plans" and would involve "actual use of weapons".
"According to the annual [PLA's] regular training plan … live-fire exercises involving the use of real weapons will be organised … in the designated areas from 6am on May 5 to 6pm on May 10," the authorities said.
Collin Koh, a military analyst from the S. Rajaratnam School of International Studies at Singapore's Nanyang Technological University, said the stress on the live-fire manoeuvres suggested the six-day exercise would simulate real combat conditions.
The drills come hard on the heels of an annual report by the Pentagon warning that China was preparing options to unify Taiwan by force, and there was a need to deter, delay or deny any third-party intervention on Taiwan's behalf.
Under the Taiwan Relations Act, the United States is bound by law to help defend the self-ruled island. Washington is Taipei's main source of arms, selling the island more than US$15 billion in weaponry since 2010, according to the Pentagon.
Beijing 'loses all hope for Taiwan's Tsai Ing-wen' as she rallies Washington
Taiwan is one of a growing number of flashpoints in the China-US relationship – along with a trade war, Beijing's growing influence in emerging economies, and its stronger military posture in the South China Sea. On Monday, two guided-missile destroyers, USS Preble and USS Chung-Hoon passed within 12 nautical miles of Gaven and Johnson reefs in the Spratly Islands, drawing immediate criticism from Beijing.
In addition, Taiwan will hold its annual Han Kuang live-fire drills from May 27 to 31 and held a computer-aided one just last month.
A Taiwan affairs analyst from the Chinese Academy of Social Sciences said the drills off Zhejiang were meant to show Beijing's determination to defend its position on Taiwan.
"Beijing is trying to build up an image that China can win a war over Taiwan and Beijing's key goal is to contain pro-independence forces, which are the biggest threat now to the peaceful unification process," the analyst said.
Koh agreed, saying the drill sent a signal to external and domestic parties after the recent high-profile transits of US warships through the Taiwan Strait.
"The messaging to domestic audience is necessary because Beijing can't be seen as weak following those reported transits by foreign warships – especially the Americans who are seen as supporting Taipei," Koh said.
"And regarding external audience, the messaging is quite obviously to demonstrate that Beijing is ready to respond more resolutely to future such transits, following the tough verbal responses from Beijing, including its statement that it considers the strait under its jurisdiction and comprise its internal waters."
Beijing 'tones down' response after US warships sail through Taiwan Strait
Relations between Beijing and Taipei have plunged since Tsai Ing-wen from the independence-leaning Democratic Progressive Party won the presidential election in 2016 and repeatedly refused to accept the "1992 consensus", which Beijing says is the foundation for cross-strait dialogue.
In response, Beijing ramped up pressure against the island, including conducting more military exercises and establishing diplomatic ties with Taipei's allies.
Source: SCMP