Foreign Minister Wang Yi tells French counterpart Jean-Yves Le Drian the two sides should ensure ties 'continue to develop in a healthy way'
Meeting comes after Paris angers Beijing by sending a warship through the sensitive Taiwan Strait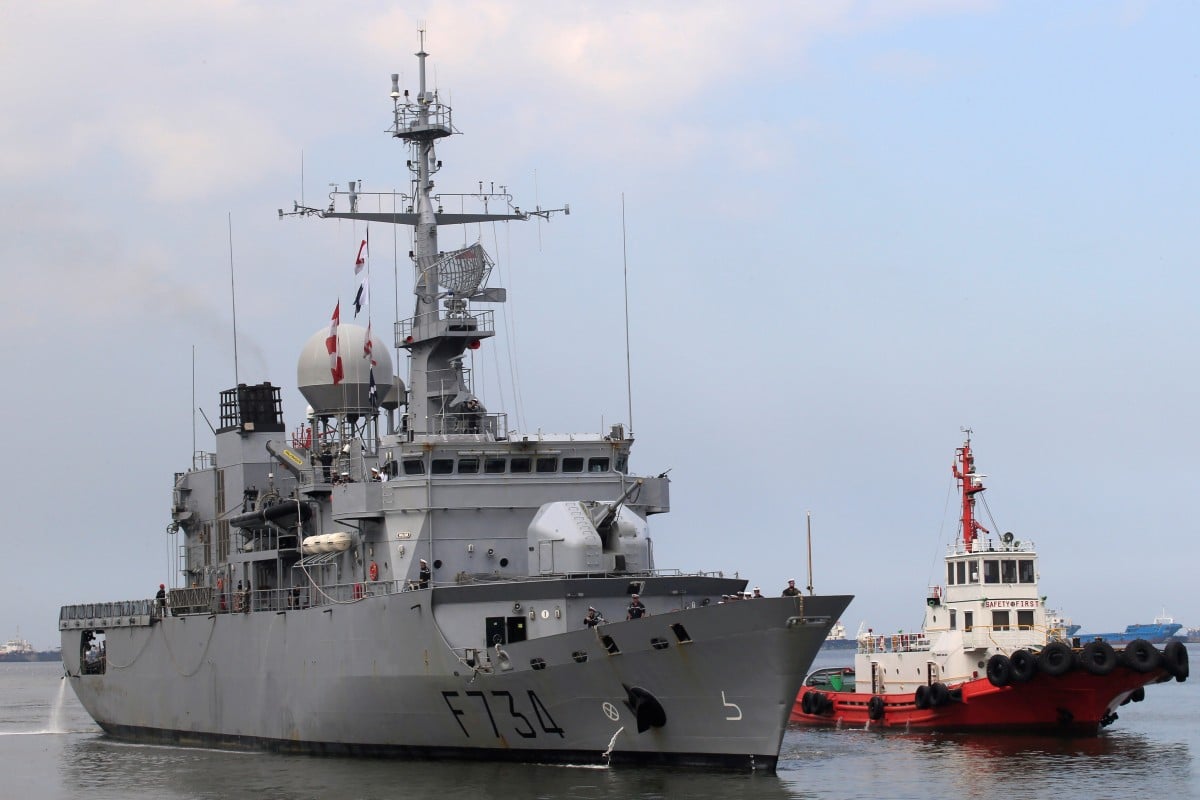 Paris upset Beijing earlier this month by sending its frigate Vendémiaire through the Taiwan Strait. Photo: Reuters
France and China should value their strong relationship and not take actions that disrupt it, China's foreign minister told his French counterpart on Thursday, just days after 
at Paris for sending a warship through the Taiwan Strait earlier this month.
Speaking at a meeting on the sidelines of the Belt and Road Forum in Beijing, Wang Yi told Jean-Yves Le Drian that the two nations "should cherish their hard-won and good relations".
"[We should] avoid unnecessary disruptions and ensure that bilateral relations continue to develop in a healthy and progressive way," he was quoted as saying in a statement issued on Friday by the Chinese foreign ministry.
Le Drian responded by saying France was willing to cooperate with China to "maintain the growth momentum of bilateral relations", according to the statement.
The
passed through the Taiwan Strait on April 6. It had been expected to take part in a naval parade on Tuesday to celebrate the 70th anniversary of China's navy, but Beijing withdrew the invitation in response to the action.
The defence ministry in Paris said this week it had been "in close contact with the Chinese authorities" about the incident.
EU's connectivity plan 'more sustainable' than belt and road
A spokesman for the European Union said the trading bloc was committed to a rules-based maritime order based on international law, including freedom of navigation, and that it was in regular contact with the member states.
Chinese academics said that after the transit by the French warship it was likely that more Western countries would make their presence known in the region and that Beijing should remain vigilant.
"France wants to show that as a great power it has a broader concern in Asia-Pacific beyond trade and other 'soft' fields," said Shi Yinhong, an international relations professor at Renmin University of China in Beijing.
"And it will exert its right to free navigation in any international waters regardless of China's position or sensitivities."
The Taiwan Strait is about 160km (100 miles) wide and divides mainland China from Taiwan, which Beijing regards as a breakaway province awaiting reunification, by force if necessary. The US, meanwhile, is bound by law to help the self-ruled defend itself and frequently sends warships through the strait in a show of support.
Shi said that US President Donald Trump's Indo-Pacific strategy, which regards China as a "strategic competitor", might draw "opportunistic associates" – like France and Britain – into the region.
"Some other states could be encouraged by the French action to do the same," he said. "But [they] may also be deterred by China's probable military and diplomatic responses, which would be determined on a case-by-case basis."
Putin gets behind Xi's belt and road plan in face of US hostility
Zhu Feng, a professor of international relations at Nanjing University, said France's conduct was intended to show the "shared concern of Western allies" regarding the security aspect of cross-strait relations.
"China must be vigilant to the new tendency [for nations] to internationalise the Taiwan Strait issue," he said, though added that the transit of the French warship was "more of a symbolic gesture than actual action".
Philippe Le Corre, a senior fellow at the Carnegie Endowment for International Peace in Washington and former special assistant for international affairs to the French defence minister, said the Taiwan Strait did not belong to any one nation and, therefore, ships were within their rights to sail through it without prior authorisation.
"From Paris's point of view, like the rest of the EU, the principles of freedom of navigation are critical to the world economy and trade, therefore there is no reason why European navies or even commercial ships should not be allowed to cross the Taiwan Strait," he said.
"This is EU policy, not just France or the UK. It has nothing to do with the US, it is international law."
Source: SCMP