Parents in Jiangsu province were shocked by a form that said a kindergarten class had been investigated and 'no pupils were found to be involved in organised crime'
Officials fired or disciplined for 'causing serious negative publicity'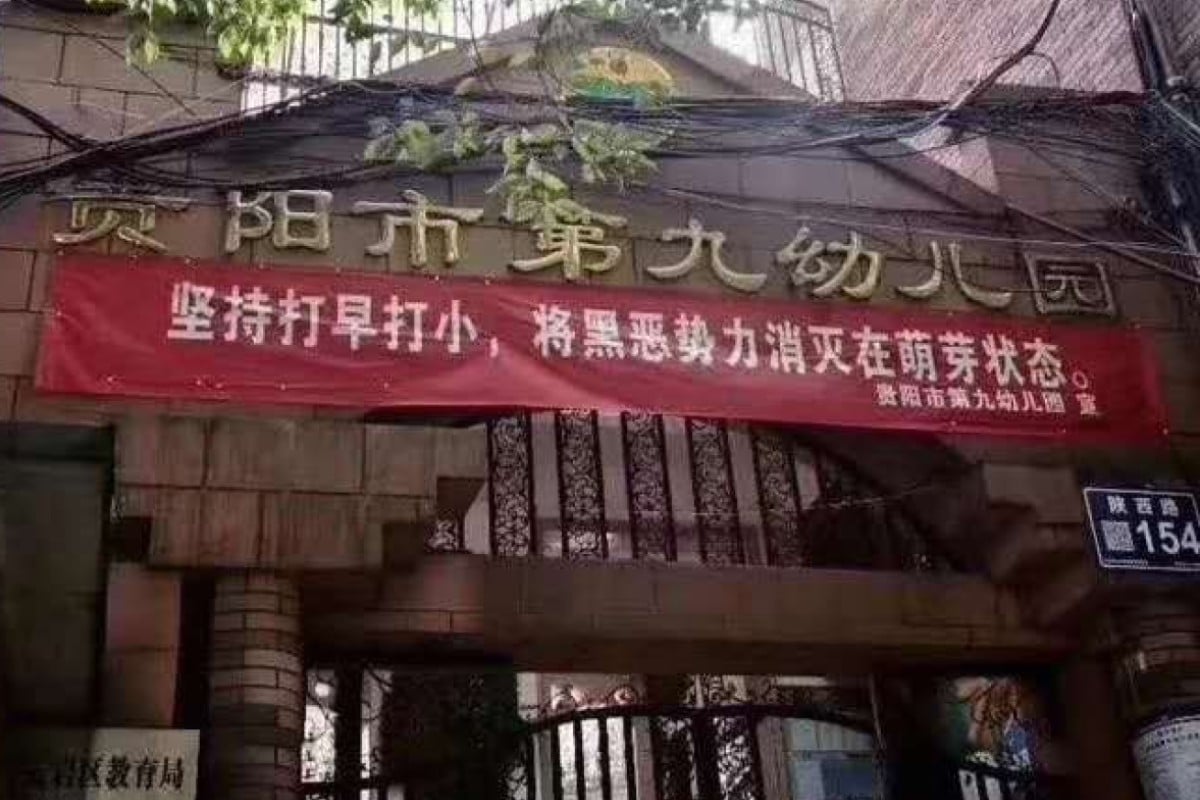 A kindergarten in Guiyang put up a banner on its entrance that read: "Crack down early and crack down young. Eliminate the dark and evil forces when they are still budding". It was later removed. Photo: Weibo
Education officials in eastern China have been sacked or disciplined after targeting kindergarten pupils in a crackdown on organised crime.
Residents in Wuxi, a city in Jiangsu province, were shocked when a note saying that 35 pupils aged four and five at Xinguang Kindergarten had been investigated as part of the wider crackdown on mafia-style gangs was leaked online.
The form, signed by two teachers, concluded: "No pupils were found to be involved in organised crime".
Copies of the document started circulating on social media, triggering a widespread backlash and ridicule.
Some social media users accused the kindergarten of box-ticking and questioned whether staff would have been capable of discovering whether any parents were involved in organised crime.
China's war on organised crime, corrupt officials sees 79,000 people detained
One said that if officials really wanted to nip criminal tendencies in the bud, they were starting too late, adding: "Why not start when they are in the womb and crack down in the maternity hospital?"
Three senior officials from the Xishan district authority were disciplined for their roles in "causing serious negative publicity".
China's fentanyl firms back crackdown on opioid
Feng Dongyan, the chief and party secretary of Xishan district education bureau, was given a party warning.
Wang Zhaoyu, director of the bureau's general office, and Lu Zhongxian, the director in charge of education inspection of the bureau, lost their jobs and were given a serious party disciplinary warning.
Beijing started the campaign targeting grass-roots criminal organisations and their "protective umbrellas" last year.
More than 3,000 people have been punished so far, but the campaign has also been ridiculed for taking aim at the wrong targets.
Last month a kindergarten in Guiyang in Guizhou province put up a banner at its entrance reading: "Crack down early and crack down young. Eliminate the dark and evil forces when they are still budding".
The kindergarten said the banner was "meant for the public" but took it down after an online backlash.
Source: SCMP