Vijay Keshav Gokhale is expected to meet Chinese deputy foreign minister Kong Xuanyou and Foreign Minister Wang Yi during two-day visit
Beijing's refusal to sanction a Pakistani militant leader and its belt and road push in the disputed Kashmir region have strained ties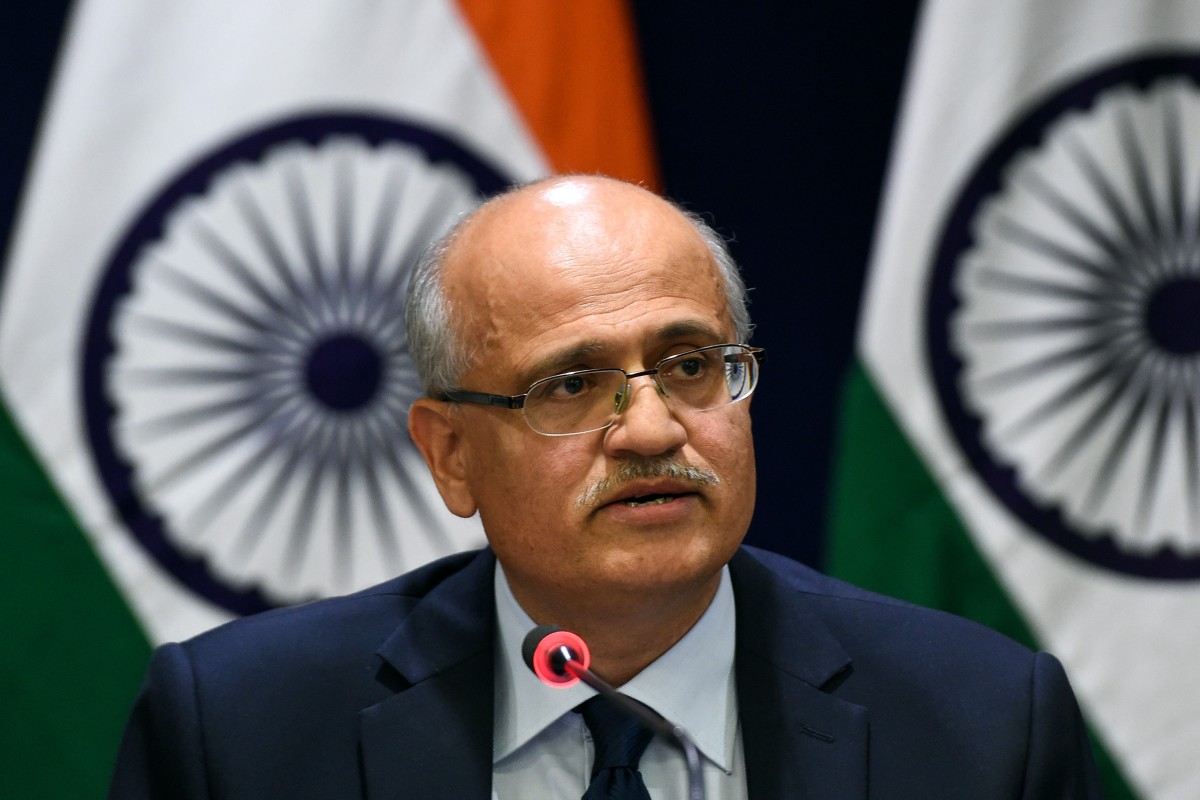 Indian Foreign Secretary Vijay Keshav Gokhale will visit China as part of "regular exchanges" between the two countries. Photo: AFP
Indian Foreign Secretary Vijay Keshav Gokhale will travel to Beijing on Sunday amid tensions between India and China over Beijing's refusal to sanction a Pakistani militant leader and its infrastructure push in the disputed Kashmir region.
Gokhale's two-day visit is part of "regular exchanges" between the two nations, the Indian embassy in Beijing said on Saturday.
During his stay, Gokhale is expected to meet Chinese deputy foreign minister Kong Xuanyou and Foreign Minister Wang Yi.
He will return to India on Monday, three days before the second Belt and Road Forum begins in the Chinese capital. Forty foreign leaders will attend the summit on Beijing's global trade and infrastructure scheme, the "Belt and Road Initiative", but India is not taking part.
Wang on Friday called on India, and other countries sceptical of the initiative, to join up, dismissing claims that it is a geopolitical tool. He also said China was ready to hold a leaders' summit with India like the informal meeting held between Chinese President Xi Jinping and Indian Prime Minister Narendra Modi in Wuhan, Hubei province last year.
Gokhale visited Beijing in February last year, and the Wuhan summit happened two months later. That meeting was seen as a breakthrough in the
after a 73-day military stand-off over the Doklam plateau.
But the progress was overshadowed in February after a terror strike on Indian security forces in the Jammu and Kashmir province, which killed 40 Indian soldiers. The Pakistan-based Jaish-e-Mohammed group claimed responsibility for the attack. India has long wanted to designate its leader, Masood Azhar, as a terrorist under international law, but China has opposed the move.
During a visit to Pakistan in March, Kong said Beijing and Islamabad were all-weather strategic partners and would support each other on issues to do with their core interests.
What 'Wuhan spirit'? Kashmir suicide attack reopens Modi's China wound
Wang Dehua, head of the Institute for South and Central Asia Studies at the Shanghai Municipal Centre for International Studies, said China and India were looking to prevent their bilateral relations from deteriorating further.
"Both nations will elaborate on their stance on this matter, and China will probably deliver a message that the China-India relationship should not be affected by the dispute over Masood Azhar," he said. "The positive sentiment out of Wuhan has been affected, and the two sides are seeking ways to continue the spirit of that informal summit."
Du Youkang, director of Fudan University's Pakistan Study Centre in Shanghai, said preparations for another informal summit of the nations' leaders would only begin after India's general election was over. Polling is being held in seven phases ending on May 19.
Gokhale's trip would mainly be a chance to see how the two nations can push forward bilateral ties amid their disputes, Du said.
In addition to Azhar, India is also dismayed that some of China's belt and road projects pass through the Pakistan-administered section of the disputed Kashmir region.
But Wang told reporters on Friday that the initiative did not target any third country, and that relations between China and India had improved after the Wuhan summit.
Source: SCMP