Growth in Shandong, China's third largest provincial economy, slowed in the first quarter due to cuts in inefficient industrial capacity
Shandong government aims to cut capacity in traditional sectors to boost 'new' industries, as well as reduce pollution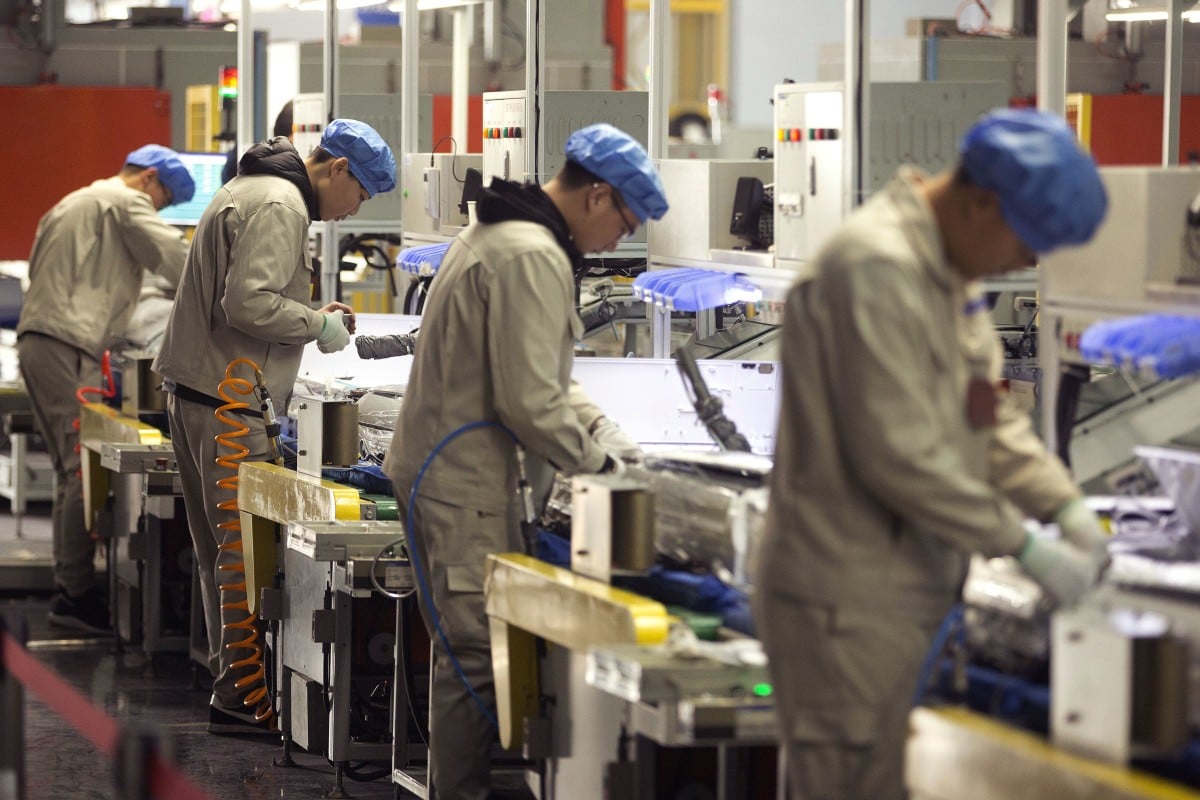 Shandong's gross domestic product growth accelerated to 6.4 per cent last year from 5.7 per cent in 2017, but slipped back to 5.5 per cent in the first quarter of 2019. Photo: AP
Shandong province, a manufacturing heavyweight in eastern China, will press ahead with plans to cut capacity in inefficient "old" industries, even though it will hurt short-term growth, the provincial party chief said on Tuesday.
Like many provinces that still rely heavily on traditional industries, Shandong's growth has slowed recently, in part due to the effect of the 
trade war
 with the United States.
While its gross domestic product (GDP) growth accelerated to 6.4 per cent last year from 5.7 per cent in 2017, it slipped back to 5.5 per cent in the first quarter of 2019, according to to Liu Jiayi, the secretary of Shandong Provincial Committee of the Communist Party of China.
The primary reason for the slowdown in growth was a plunge in production in "backward" industries at the start of the year, due in part to cuts already made to reduce production capacity, said Liu. He added that the capacity cutting measures will help the province reduce air pollution, one of the central government's priorities for 2019.
"The quality of development is changing [in Shandong]," said Liu, who referred to the fact that Shandong's industrial sectors dominate the economy and that 70 per cent of this heavy industry is in the chemicals sector. "As a result, our economic volume is large, but the quality of development is not very high."
According to statistics from the Hong Kong Trade Development Council (HKTDC), Shandong's industrial output has been dominated by heavy industry, which accounted for about 67.1 per cent of the gross industrial output in 2017. Within that, raw chemical materials and chemical products had the biggest share of all value-added industrial output, at 9.7 per cent, according to the HKTDC.
"This decline [in first quarter growth] was in exchange for our development of high-quality [production], because our traditional and backward production capacity has declined," Liu added.
Shandong, the third largest provincial economy in China, will continue to reduce its reliance on chemicals production, while also cutting the use of coal for power, heating and fuelling heavy trucks for transport, all of which are major contributors to regional pollution, according to Gong Zheng, the governor of Shandong.
"We have stepped up our efforts [to cut pollution] and have refused to allow it to rebound, and we will do this well," said Gong.
The central government launched a campaign to tackle pollution in 2014 as it sought to reverse the severe damage done to the environment after decades of breakneck industrial growth.
However, the rising costs of doing business in China – including higher wages and the costs of pollution control – have forced some manufacturing out of China. That process has been accelerated by firms searching for an alternative production base to avoid 
implemented as part of the trade war, which has made a severe dent in China's investor and consumer confidence.China's GDP growth slid to 6.2 per cent in the second quarter, the lowest reading since records began in the first quarter of 1992, and below the levels reported during the global financial crisis, the National Bureau of Statistics said on Monday.
However, Shandong party chief Liu, the former head of the National Audit Office who led the nationwide investigation into local government debt in 2014, said he was not concerned with GDP growth in Shandong.
"Now our GDP growth rate has dropped a little, and the growth rate for fixed asset investment has dropped a little," said Liu. "Some people worry that the growth of Shandong is slipping. I can tell you responsibly, not only [growth] will not slip, we have to take a step back these years in exchange for the healthy development of the next few years."