Deliveries will start in the next six to 10 months, carmaker says
Tesla will take on Chinese carmakers such as Geely and SAIC, and electric car start-ups including Nio and Xpeng Motors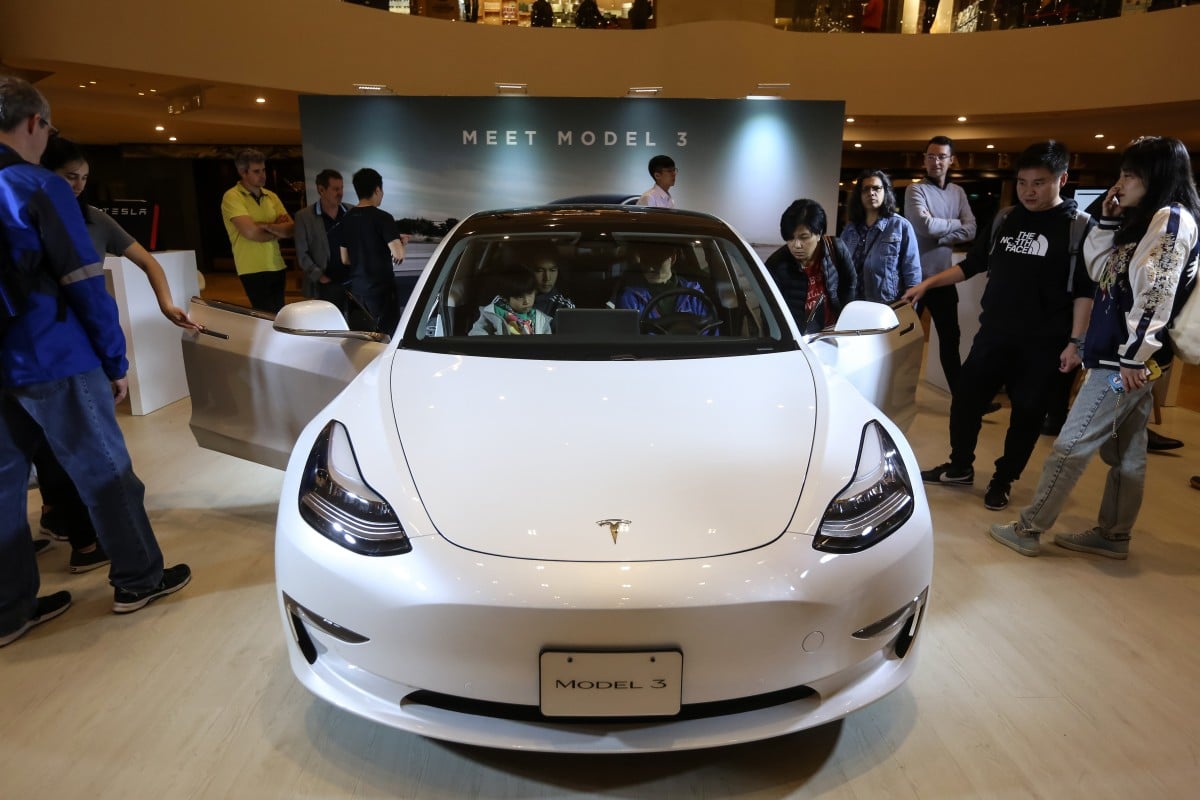 Tesla said on Friday that its Model 3 electric car, which will be assembled in China, will be ready for deliveries in six to 10 months. Photo: AFP
Customers can pre-order the Model 3 assembled in China after Tesla announced on Friday that it would be priced 13 per cent lower than the US imports, taking the electric carmaker a step closer in tapping the world's largest EV market.
The standard range plus Model 3 car that Tesla plans to assemble at the Gigafactory 3 in Lingang, Shanghai, will be priced at 328,000 yuan (US$47,529), 49,000 yuan cheaper than the same model currently imported from the US.
Tesla's US-built cars are now subject to a 25 per cent import duty in China. The bestselling US electric carmaker plans to start deliveries in the next six to 10 months.
"Today we announced that Model 3 Standard Range Plus vehicles built at Gigafactory Shanghai will begin at 328,000 yuan for our customers in China," Tesla said in a statement.
The model has a range of 460km and a top speed of 225km/h.
Industry observers said that the price of the locally made car aimed at the mass market is on the higher side, adding that a 300,000 yuan price tag could attract thousands of Chinese buyers.
"If a Chinese customer can buy a Tesla car for less than 300,000 yuan, many of them will make a decision on the spur of the moment since it is viewed as the best EV in the world," said Tian Maowei, a sales manager at Shanghai-based Yiyou Auto Service.
Tesla rushes Model 3s to China before trade war truce expires
US President Donald Trump has signed an executive order barring US companies from using telecoms equipment made by companies that pose a threat to national security, a move aimed at shutting out Huawei Technologies.
US technology companies including Google and Microsoft have severed business ties with Huawei to comply with the US trade ban.
In January, Tesla started construction on a US$5 billion wholly-owned plant in Shanghai, the city's single largest foreign direct investment just three months after it secured a land parcel to make electric cars locally.
The factory will produce Model 3 and Model Y electric vehicles that are seen as affordable to drivers in China.
Podcast: Here's how the US-China tech war is affecting small electronics companies
Gigafactory 3 is expected to make around 3,000 Model 3 vehicles a week in the initial phase, ramping up to 500,000 per year when it becomes fully operational, Tesla said.
Tesla will take on Chinese carmakers such as Geely and SAIC and electric car start-ups including Nio and Xpeng Motors in China where sales of new-energy vehicles including battery-powered and plug-ins are expected to jump 27 per cent this year to 1.6 million units, according to the China Association of Automobile Manufacturers.
In March Beijing announced a cut in cash subsidies offered to NEV buyers by up to 60 per cent, believing it was time to remove the crutches and cull an industry that had spawned hundreds of small manufacturers.
It is unclear whether Tesla vehicles will receive subsidies from the Chinese government.
Source: SCMP