Police say woman told toddler to use a rubbish bin when he needed to go to the toilet then got into argument with driver after he called her 'uncivilised'
Security camera footage shows her bashing on compartment door and grabbing the man's coat as he is driving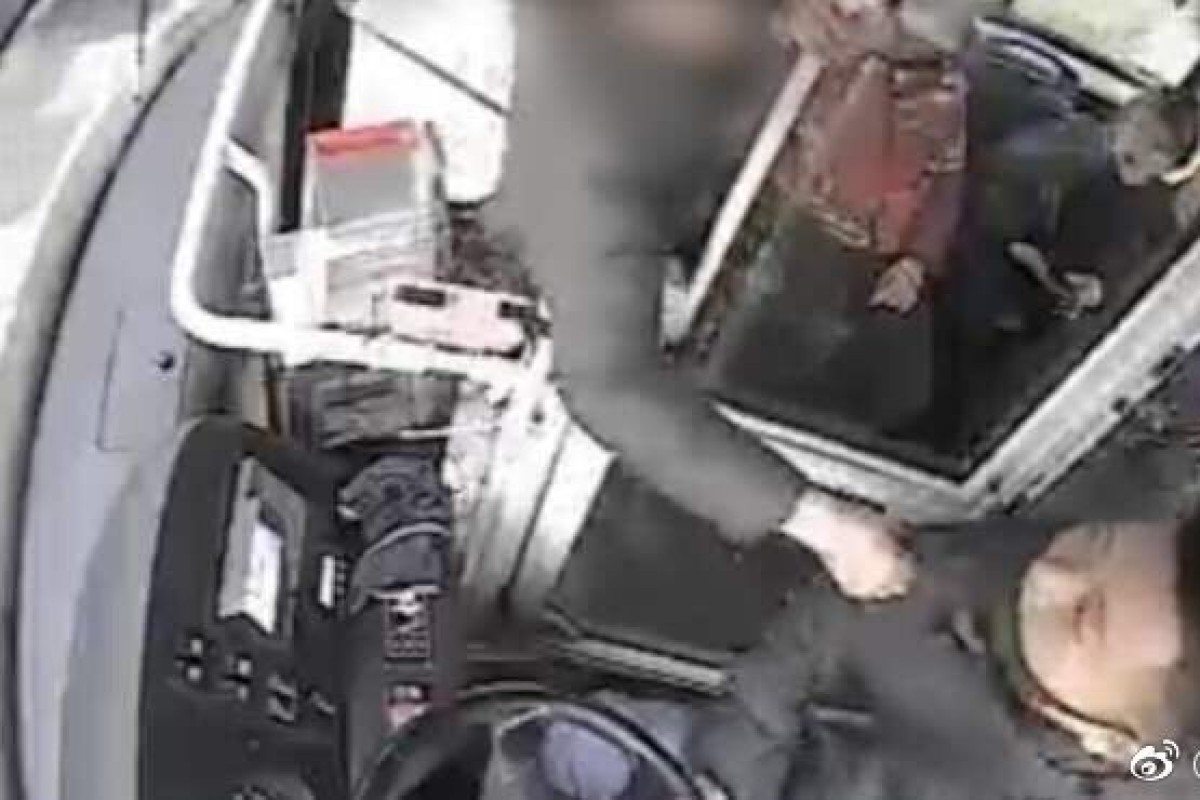 The woman is seen in security camera footage grabbing the bus driver's coat while he is behind the wheel. Photo: Weibo
A mother in central China has been detained after she allowed her two-year-old son to urinate in a rubbish bin on a bus then attacked the driver when he told her she was "uncivilised".
Security camera footage of the incident in Dazhi, Hubei province on Saturday shows the woman supporting the toddler by the bin on the floor of the bus while he urinates in front of the other passengers.
She is then seen rushing up to the driver and arguing with him after he complains about her behaviour, bashing on the compartment door and grabbing the man's coat as he is driving.
A police officer told news website PearVideo on Sunday that the woman, identified only by her surname Chen, said the boy needed to go to the toilet while they were on the bus so she took him over to the bin.
"The driver saw them and said she was uncivilised, and they got into an argument over it," the officer said. "Chen became agitated – she hit the driver's compartment door and reached around to attack him while he was driving."
The driver, who was not identified, is seen in the security footage calmly pulling over and calling the police while the woman is attacking him.
Chen has been placed under criminal detention for posing a threat to public security and Dazhi police are investigating the case, according to the report.
It comes after a series of recent
attacks on bus drivers
 in China, including an accident in October when an angry passenger who missed her stop assaulted the driver, causing the bus to veer off a bridge and crash into the Yangtze River in Chongqing, killing all 15 people on board.
A police investigation found that the 48-year-old woman had been fighting with the driver as he tried to steer the bus when the crash happened.
Reacting to the latest case, some social media users said they understood the mother's situation, but it has angered others, who say she should have used a diaper or got off the bus at the next stop.
"Anyone might need to use the toilet [on a bus], especially a kid, but parents should take heed of the criticism – she was clearly in the wrong," one person wrote on Weibo, China's Twitter.
There have been other cases in recent years of Chinese parents sparking anger for letting their children urinate in public – on the mainland and elsewhere. Last month, photos of a Chinese tourist allowing her
son to pee on the floor
 of the Forbidden City in Beijing triggered a strong reaction on social media, with many people criticising the woman.
Source: SCMP